2014 U.S. Championships: More Thrills
2014 U.S. Chess Championship

St. Louis, Missouri, USA
Round #10 (Sunday, 18 May 2013)

Overall

Table
White
Score
Rating
Black
Score
Rating
Result
1
GM Onischuk, Alexander
4.5
2668
GM Naroditsky, Daniel
4.5
2543
½-½
2
GM Molner, Mackenzie
3.0
2522
GM Lenderman, Aleksandr
6.0
2582
½-½
3
GM Akobian, Varuzhan
6.0
2643
GM Kamsky, Gata
5.5
2713
½-½
4
GM Friedel, Joshua E
5.5
2505
GM Shankland, Samuel L
4.5
2634
0-1
5
GM Gareev, Timur
4.0
2653
GM Erenburg, Sergey
2.5
2633
0-1
6
GM Ramirez, Alejandro
3.5
2595
GM Robson, Ray
4.5
2631
½-½

Games
GM Maurice Ashley has done a wonderful job which prompted Romanian WGM Alina L'Ami to post on his Facebook page, "Makes me believe that chess was simply made for TV! Enjoying the show." He has certainly made the championship exciting. Great job!
THE HOME STRETCH!
The plot thickens as the U.S. Championship is in its last stage with endless possibilities. Leading up to the final round, there are still chances of a playoff, but in what could not have been scripted any better Alex Lenderman and Varuzhan Akobian will play for the title. Gata Kamsky must beat Josh Friedel in case that game is drawn. A three-way playoff will take place to determine the winner.
While Friedel gets an "A" for his stylish hat, he gets an "F" for his lackluster performance against Shankland.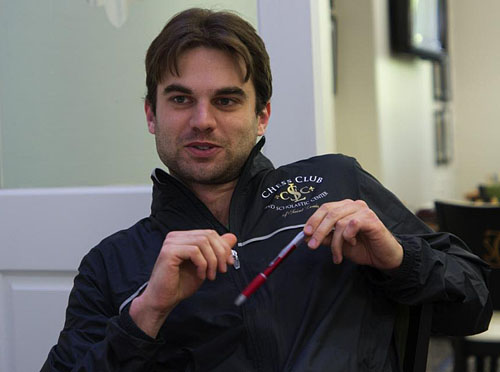 Shankland seems to revel in being the "spoiler". He has beaten three contenders in Akobian, Lenderman and now Friedel.
In round #10, Sam Shankland is eliminated from the championship, but also took Friedel with him after slowly outplaying him in an impressive showing. While both are eliminated from championship contention, Shankland still has a chance for an Olympiad spot if Lenderman should lose in his finale.
In the other decisive game, Timur Gareev continued his tumble with another lost to tailender Sergey Erenburg. Not sure why Gareev is having such a poor showing. Too much blindfold? Not enough preparation? This is exactly the reason that the U.S. Championship should be an Olympiad qualifier for the entire team. Gareev would have otherwise qualified (pending his travel documents), but would he truly deserve a spot? Not with his performance here.
The wheels fell off for Timur Gareev. Another loss to tailender Sergey Erenburg and this is a tournament he'd rather forget.
All other games were drawing in various endings.
All photos by Lennart Ootes.
Catch live commentary of the event with GMs Yasser Seirawan, Maurice Ashley and WGM Jennifer Shahade at www.uschesschamps.com/live.
Official Site: https://www.uschesschamps.com/