2014 U.S. Championships: Blunderful Round
2014 U.S. Chess Championship

St. Louis, Missouri, USA
Round #8 (Friday, 16 May 2013)

Overall

Table
White
Score
Rating
Black
Score
Rating
Result
1
GM Onischuk, Alexander
4.0
2668
GM Lenderman, Aleksandr
4.0
2582
0-1
2
GM Naroditsky, Daniel
4.0
2543
GM Kamsky, Gata
4.5
2713
½-½
3
GM Molner, Mackenzie
2.0
2522
GM Shankland, Samuel L
3.0
2634
½-½
4
GM Akobian, Varuzhan
5.0
2643
GM Erenburg, Sergey
2.5
2633
1-0
5
GM Friedel, Joshua E
4.0
2505
GM Robson, Ray
3.0
2631
½-½
6
GM Gareev, Timur
3.5
2653
GM Ramirez, Alejandro
2.5
2595
½-½

Games
A truly "blunderful" day as today's round was marred by a number of horrible blunders occurring in several games in both championships. Camilla Baginskaite lost her game in 14 moves to Katerina Nemcova. Players frittered away advantages and seemingly forgot basic principles. However, Eswaran won today beating Iryna Zenyuk and improving to 50%.
In a round billed as a "comedy of errors" by Yasser Seirawan, many games were see-saw battles where the evaluation seemingly shifted from move to move. While Jennifer Shahade seemed to believe these errors made the games more exciting, Seirawan seemed absolutely horrified at the quality of some of the games.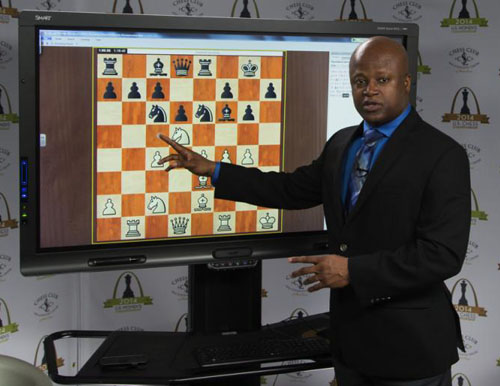 GM Maurice Ashley doing his usual stellar job.
WGM Jennifer Shahade and GM Yasser Seirawan providing commentary.
Erenburg was slowly outplayed by Akobian, but he should not have dropped the full point. After white's 30.Qb6, black played for counterattack with 30…Qc3? (30…Qxb6=) thinking that he could launch an attack on the second rank. However Akobian pointed out that he missed the white's winning maneuver with 31.Qd8+ and 32.Qd1. The point is that black's 32…Qb2 33.a6 Rf5 34.a7 white would queen and hold the g2-square.
Daniel Naroditsky taking a peek at the other games
while Kamsky is on the move.
Daniel Naroditsky is having a stellar showing in his championship debut after holding Gata Kamsky in a rook ending. The game was technically drawn 25 moves before the end. Kamsky was attempting to take advantage of white's weak pawns, but to no avail.
Alexander Onischuk's loss to namesake Alex Lenderman may show that there is an emergence of different players and that the top players may be moving on. Hikaru Nakamura, Kamsky and Onischuk all seem to be at different points in their chess careers and not totally motivated about the U.S. Championship.
Onischuk was simply outprepared in his game and Lenderman hit him with the nice 19…Rxc4! wresting the initiative. After that black was totally dominant planting a "Godzilla" knight on d3. White was forced to give back an exchange and only had a couple pawns for a piece. In the end, white's king was chased out in the open and caught in a mating net.
Commentary being conducted by GMs Ben Finegold and Robert Hess
is being hosted at Lester's.
Neither Molner-Shankland nor Friedel-Robson showed much and the games was drawn rather uneventfully. However the Gareev-Ramirez game was the most unpredictable game of the round. First, Gareev was completely winning by move 19.Qh5+ and still held a decisive advantage until 33.Qg6 when black conjured up counterplay with his advanced b-pawn. The engines still showed white with an edge, but after the queens came off, many were wondering if black had chances. It turns out that even with black's menacing pawns, white's rook was an able defender. Besides, white's h-pawn raced for the queening square and was able to force a perpetual check.
2014 U.S. Chess Championship

St. Louis, Missouri, USA
Round #7 (Friday, 16 May 2013)

Women

Table
White
Score
Rating
Black
Score
Rating
Result
1
WGM Foisor, Sabina-Francesca
2.5
2238
GM Krush, Irina
4.5
2489
½-½
2
WIM Ni, Viktorija
1.5
2206
WGM Abrahamyan, Tatev
4.0
2366
½-½
3
NM Eswaran, Ashritha
2.5
1979
WIM Zenyuk, Iryna
3.5
2249
1-0
4
WGM Baginskaite, Camilla
1.0
2267
WGM Nemcova, Katerina
3.0
2282
0-1
5
FM Melekhina, Alisa
2.5
2151
IM Zatonskih, Anna
5.0
2469
0-1

Games
Anna Zatonskih cemented her lead over Irina Krush by winning with the French Defense today against Alisa Melekhina while Krush was held by Sabina Foiser in a game that dragged out to almost 80 moves.
Tatev Abrahamyan is fortunate to remain a contender after today's near-tragic game. Photos by Lennart Ootes.
Tatev Abrahamyan caught a break today when Viktorija Ni failed to break through in a completely winning position. In fact, Ni was two pawns up when she allowed a draw by repetition. This result may show more about Ni's lack of confidence than Abrahamyan's fighting ability.
In another debacle in a round which is now billed as "comedy of errors", a beleaguered Camilla Baginskaite ceded her game in a mere 14 moves to Katerina Nemcova after a "fingerfehler". Baginskaite, who has been relatively inactive in past years, is probably playing in her last championship.
On the bright side, the U.S. field has discovered a rising star in Ashritha Eswaran who won against Iryna Zenyuk and is now on a respectable 50% score. When Maurice Ashley asked her if she thought she would do this well, she responded with her 1000-watt smile that she felt no intimidation from her fancied opponents since she has confidence in her abilities. If there is a bright spot in this tournament it has been the 13-year old star from San Jose.
America's newest star?
All photos by Lennart Ootes.
Catch live commentary of the event with GMs Yasser Seirawan, Maurice Ashley and WGM Jennifer Shahade at www.uschesschamps.com/live.
Official Site: https://www.uschesschamps.com/
Drum Coverage: https://www.thechessdrum.net/blog/2014/05/09/2014-u-s-championships-st-louis-usa/