Malawi and Tanzania Chess in Action!
Shortly after the Chess Federation of Malawi (CHESSAM) had announced an invitation to Tanzania for a test match, FIDE announced a K4.6m grant (US$10,000) for setting up a secretariat for the Chess-in-Schools. FIDE Vice President Lewis Ncube announced the grant to the officials of CHESSAM. Kezzie Msukwa was on hand to receive the grant and hailed the donation as a means to improve the chess infrastructure of the country.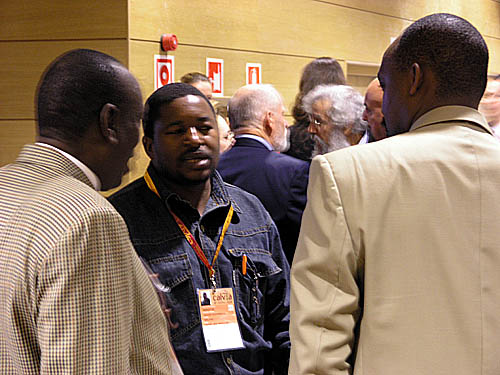 Malawi's Kezzie Msukwa (center) with Uganda's Enoch Barumba and Rwanda's Rugema Ngarambe during the General Assembly at the 2004 Chess Olympiad in Calvia, Spain. Photo by Daaim Shabazz.
Malawi has participated in past four Olympiad tournaments and will be gearing up for the Olympiad in August held in Tromso, Norway. In doing so, they are preparing to improve on their 2012 campaign in Istanbul where they scored 127 from 148 teams. In a few weeks they will travel for a international friendly in Tanzania.
Northern Region League Chairman, Isaac Mumbe reported this after returning from the launch of the Tanzanian Chess Association (TCA) in Dar es Salaam. Garry Kasparov was also in attendance at the launch held last July. Tanzania also held a very successful open event in May of last years in which GM Nigel Short attended. In fact, the tournament had to be held under the name of the Ugandan Chess Federation in order to be FIDE-rated.
Opening Ceremony at the 2013 Tanzania Open
Photo by Brian Kidula.
In a twist, only players from the North Region Chess League will be capped in order to keep the competition on par. "We have done this deliberately to level the playing field and consequently help set a good founding of chess for our Tanzanian friends." The notion has raised eyebrows, but the match should bode well for both nascent federations.
In other news, Malawi is conducting its Olympiad qualifiers to determine who will represent the country in Norway. The northern qualifier was won by Fiskani Mwagomba with 7.5/9 to beat out five others for the K7,000 prize. The top five finishers will also compete in the Olympiad qualifier next month against other qualifiers from the South and Central Regions.
Charles Mbale, "Tanzanian Chess Association invites Malawi," Nyasa Times, 18 February 2014.
Leonard Sharra, "Malawi Chess gets K4.6m grant from FIDE," Nyasa Times, 21 February 2014.