Rap icon RZA to defend chess title in 2014
For Immediate Release
PR Contact: Meek Gaborski
1-888-588-4418
memg@hiphopchessfederation.org

Wu-Tang Clan Leader RZA Defends HHCF Title
at Chess Kings Invitational in Los Angeles
Hip-Hop Chess Federation Hosts Celebrity Chess Tournament
to Help South Central LA
Los Angeles, CA 11/13/14- The Hip-Hop Chess Federation (HHCF) is proud to announce that it will host its upcoming Chess Kings Invitational , a celebrity chess tournament, at the Anaheim Business Expo on Sunday Feb 16th 2014. Wu-Tang Clan leader RZA will defend his title in an 8 man speed chess tournament. RZA won the first HHCF heavyweight title belt in 2007. See video here.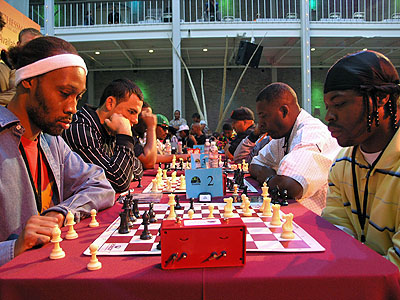 Front to back: RZA vs. Monk, Ralek Gracie vs. GZA, Amir vs. Casual, Sunspot Jonz vs. Paris at HHCF King's Invitational in 2007. Photo by Daaim Shabazz.
The HHCF will be teaming with a submission only (tapout only, no points) Braziian Jiu Jitsu tournament called the KO Finisher www.kofinisher.com for the event. Some of the biggest names in jiu jitsu will gather together to prove their skills. A portion of the ticket sales will help the HHCF expansion into Los Angeles.
Hip-Hop Chess Federation Founder, Adisa "The Bishop" Banjoko stated "The HHCF is very excited to be hosting an event in LA. No one has ever seen anything like what we are about to do. This event will help get HHCF the funds to start to after school programs in South Central Los Angeles. I have chosen Santee High School as one, and the other will be determined by RZA, our Director of Outreach. The HHCF is grateful to Kurt Osiander, Nick Greene and everybody at the KO Finisher for allowing us to join forces. Together we will showcase the power of jiu jitsu and chess to the planet."
The events that day will include HHCF's Founder giving a short 15 minute presentation on the philosophical connections between chess and jiu jitsu. The HHCF will also host a Mind Over Matter Panel featuring RZA, as well as notable chess masters, martial arts masters and educators. It will be a discussion on how Hip-Hop, chess and martial arts can lead American youth to unity, strategy and nonviolence.
Dilated Peoples Rakaa Iriscience, Mike Relm, DJ Rob Flow and Quadir Lateef will be on hand and other special guests will be announced shortly. In related news, the HHCF recently released Street Games Vol. 1 hosted by DJ Rob Flow and A-Plus of Souls of Mischief. Street Games is a profanity free mixtape about the connections between Hip-Hop Chess and martial arts. It includes "A Technical Flow" by Kalhi feat. UFC coach Ryron Gracie, "64 Squares in the Cipher" by Sunspot Jonz, Zumbi and Rakaa Iriscience, "The Chess Clock" by Quadir Lateef and Jasiri X, and "The Maurice Piece", a tribute to the first Black Grandmaster of chess, Maurice Ashley.
RZA holds up the HHCF championship belt after sweeping the tournament 4-0. Hip-hop legend "Popmaster Fabel" presents the belt while Adisa Banjoko (co-founder of HHCF), Josh Waitzkin and Rakaa Iriescience applaud. Photo by Daaim Shabazz.
RZA has a message for those who seek to take his title: "I am looking forward to the upcoming chess battle at the HHCF Chess Kings Invitational in Los Angeles. To those knowing I have to defend my belt, get ready to protect ya neck."
A full schedule of events for the Chess Kings Invitational will be posted shortly at www.facebook.com/hiphopchess
###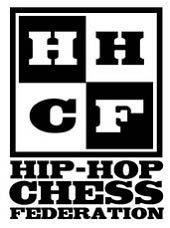 About Hip-Hop Chess Federation: The Hip-Hop Chess Federation is the first nonprofit 501(c)3 to fuse music, chess and martial arts to promote unity, strategy and nonviolence. They host celebrity chess events and panels of life strategies for at-risk, gang impacted and gang intentional youth. Artists like RZA and GZA from Wu-Tang Clan, The Jacka, Immortal Technique, Asheru, Zion I, DJ Qbert, Dilated Peoples, Hieroglyphics and many others have participated in their events. Founder Adisa Banjoko has presented at Harvard University and World Chess Hall of Fame on how chess, martial arts and music promote peace in the streets in 2013. Visit their official website at www.hiphopchessfederation.org.
###
Visit www.BishopChronicles.com today and LISTEN to some of the coolest interviews in entertainment, business strategy and technology on the net. Connect with me on www.linkedin.com/in/abanjoko