The Drum visits "Queen" Chess Exhibit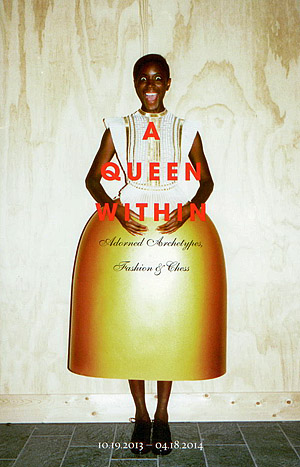 During Thanksgiving holidays in America, there are a number of tournaments being held to take advantage of the extended weekend. The National Congress in Philadelphia would certainly be the marquee venue for chess.
People travel from coast to coast to see relatives and I was no exception. This year I have been to St. Louis twice to cover chess events (2013 U.S. Championship & Sinquefield Cup), but this time I planned to be present at a party for my great aunt who turned 99 on November 28th. St. Louis has become a fortuitous trip since there is an opportunity to visit family (who mostly stay in E. St. Louis, Illinois) or the chess club.
Prior to my trip, I knew I would have a chance to visit the Chess Club and Scholastic Center of St. Louis (CCSCSL) and the World Chess Hall of Fame. I sent a tweet to @CCSCSL and inquired about the weekend's activities and they mentioned an IM/GM norm tournament as well as the Thanksgiving Open. I knew that I would have my chess appetite satisfied.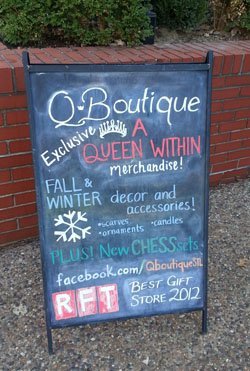 After the birthday festivities on Thanksgiving, I stopped by the St. Louis Chess Club but also went over to the World Chess Hall of Fame and saw the "A Queen Within: Adorned Archetypes, Fashion and Chess" which was on display. I had heard about the exhibit while covering the Sinquefield Cup in September, but had no idea how long it would be featured at the museum. However, it happened that the exhibit would be on display until April so I decided to check it out.
"A Queen Within" is an interesting exhibit attracting people of different genres. Certainly fashionistas would love these artistic creations as well as history buffs and chess players. However, the exhibit has something for those interested in the aesthetic spectacle. While I could not take photos, I was able to get permission to use some of the still shots featured below.
Prior to entering the first exhibit, I had no expectations, but as soon as I entered the hall, there was a feeling of bewilderment. There was as melange of colors, shapes and sizes that can cause one a pleasurable sensory overload. I was impressed by the arrangement of the dresses and the variety of themes expressed by designers from Europe and Asia.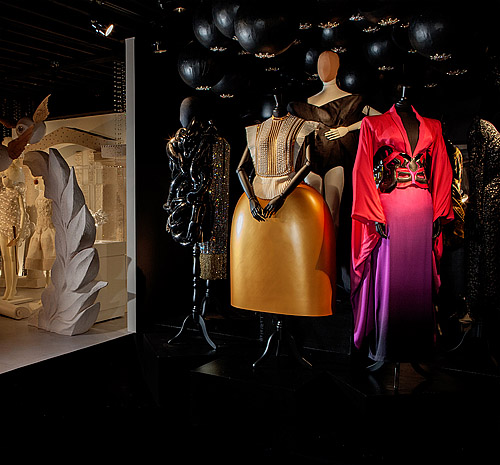 "Mother Figure Queen" has pieces by IRIS VAN HERPEN, SERENA GILI,
MAISON MARTIN MARGIELA, ALEXANDER MCQUEEN, JEAN PAUL GAULTIER.
"Magician Queen: by WRITTENAFTERWARDS, JOSEFIN ARNELL.
Photos by Sarah Carmody. Permission granted by World Chess Hall of Fame.
Walking toward the larger room in the hall, there were more amazing pieces including very abstract piece resembling a set for a play. It was called "Magician Queen". There was so much detail in this piece that one had to use imagination to understand how this dress was composed. Lots of "eye candy" for the mind to digest. Part of the exhibit were the placards that explained the concept of the art and sometimes there was a historic note.
There was a explanation of how influential Queen Isabella of Spain was involved in uniting the monarchies with King Ferdinand. Through her influence in reclaiming Spain from the Moors of Africa, she gained a new reverence and thus chess honored her by giving this piece far-reaching powers on the board. The Moors had brought "shatranj" to Spain after the invasion in 711 AD.
The Queen then financed Christopher Columbus' missions to find the "New World". Of course, these discoveries were not absolute, but relative to the fact that Europe had not previously known about these lands and civilizations. It was interesting to see how the present-day rules of chess evolved.
The second floor was also visually compelling. Walking in and glancing to the right there was a field of red flowers with several dresses displayed as if suspended in air. The display was open so that you could stick your head in for greater scrutiny.
There were several dresses in the field, but one of them may have evoked memories of a more sordid part of American history. The white flowing dress called "Mother Earth Queen" appeared to harbor notions of mysticism. It was this look that many secret societies adopted to convey a super-worldly persona. Unfortunately some used this mystical look for nefarious reasons.
"Mother Earth Queen" by TABITHA OSTLER.
"Thespian Queen" by Viktor and Rolf, courtesy Museum Boijman van Beuningen.
Photos Sarah Carmody. Permission granted by Amanda Cook.
There was another fascinating dress set in a room of round mirrors giving off the appearance of infinity. Called the "Thespian Queen," it was a rose red dress with an asymmetry caused by a round opening. It was elegant, yet enigmatic. One of the attendants stated that there was a dress on display that megastar Beyonce Knowles had worn in a photo shoot (see above) and appeared on the March 2011 cover of Paris fashion magazine, "L'Officiel" (see spread).
All and all, it was a very interesting exhibit tainted only by the fact that photographing was not allowed! However, there is a handsome souvenir catalogue available for purchase as a memoir or coffee table adornment. The tour admission fee is only $10.00 with a discount for CCSCSL members.
I also visited the ongoing exhibit of Jacqueline Piatigorsky, a socialite, patron of chess and player. She financed and hosted the two Piatigorsky Cup tournaments which were two of the strongest tournaments held in the U.S. The exhibit included a number of audio recordings recounting the tournament including a very informative (and humorous) interview of Lajos Portisch. There were articles, photos and game scores that Bobby Fischer had sent Mrs. Piatigorsky. There was also the history given as to why there were only two such tournaments. Interesting indeed.
The World Chess Hall of Fame is quite a treasure trove of chess history and memorabilia. Even for a non-chess player, there would be a type of intrigue by knowing that such an enigmatic game has such a rich history and connection to the arts. Some consider chess a sport, science, game and art. With the exhibit "A Queen Within," one can definitely see another aspect of its artistic expression. Well done!
Here is the woman I consider a Queen… my 99-year old great aunt Mattie! 🙂
Photo by Daaim Shabazz.
* * *
Check out a preview at the exhibit page!