WCC2013-7: Anand whiffs with white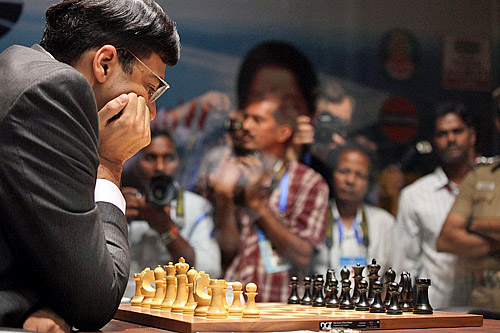 Anand pondering on a way to catch Carlsen in preparation.
Photo by Anastasia Karlovich.
All eyes were on Viswanathan Anand today as he was attempting to rebound after two consecutive losses. A minor stir was caused as Magnus Carlsen nearly forfeited due to the zero tolerance rule.
Magnus Carlsen almost forfeited!
Photo by Paul Truong.
Susan Polgar reported this incident on her website which was not widely publicized. According to her account, Carlsen came to the board at 2:57:26 went to the bathroom and made it back to his chair at 2:59:46. According to "zero tolerance" players must be seated or will lose via forfeit. Carlsen made it by 14 seconds and the game commenced. That would have certainly created a sensation!
Anand remained loyal to 1.e4 and entered another anti-Berlin. Both players has played this line times before. Some fans and commentators were expecting Anand to try something a bit more ambitious and even a King's Gambit was cheekily suggested. There were a couple of Twitter comments by both Hikaru Nakamura and Teimour Radjabov (who just won the European Team Championship) that Anand should go "all in" with white.
Perhaps there is a sense of urgency, but Anand wants simply to stabilize the situation instead of possibly going down -3 in a tactical melee and the match being all but over. There are another five games and while the window is closing a draw is not the worst result.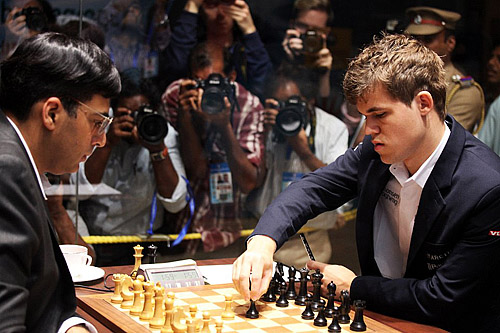 Carlsen sticks with the classical game 1.e4 e5.
The game continued with some maneuvering and black had a very solid position with no weaknesses. Both sides had castled on the queenside and there were few targets to hit at for white. The game plodded on and Anand could make no progress in terms of creating imbalances in the position. The game ended calmly with a shake of hands.
GM Dronavali Harika visited Chennai from Hyderabad to cheer for Anand.
Photo by Anastasia Karlovich.
Photographers and Journalists from around the world.
Photo by Paul Truong.
There was a press conference afterwards and Anand stated that he was trying to break the streak of losses (both from drawn positions) and tried to press a little, but it never happened. The press conference are increasing becoming a tortuous exercise for the players and their answers come off as flippant and annoyed.
One journalist asked Anand, "Are you a relieved lot now?" implying that Anand was glad not to lose a third game in a row. It was good of Anand not to snap at such an inappropriate question. However, the press conference format will have to be improved and perhaps the social media can be polled for a better quality of questions.
The players were in a good mood, but the Q&A format will have to be improved… or eliminated for future matches. Photo by Paul Truong.
The recurring theme is that Anand should immediately "go for broke" and try to create an open and complicated attacking game. The idea that white must win is perhaps one that is a bit naive given that black has been perfectly fine with creating chances in this match.
In fact, Anand has had his best positions with black and Carlsen has won with black. Certainly it is more of a challenge to win for black, but both sides have the same objective and rules. In the final analysis, Anand "stopped the bleeding" to get his confidence back and we can expect to see brash play in the eighth game.
Score: Carlsen 4½ Anand 2½
Official Site: https://chennai2013.fide.com/
Drum Coverage: https://www.thechessdrum.net/blog/2013/11/06/2013-world-championship-anand-vs-carlsen/
---
Game #7
Game Analysis – Game #7 (GM Daniel King)
Game Webcast – Game #7 (All-India Chess Federation)