Drum Interviews at '13 Sinquefield Cup
The 2013 Sinquefield Cup was certainly a history event and set a high bar for supertournaments in the U.S. Billed as the "strongest chess tournament ever" on American soil, the event brought the world's top two players and America's top two players in the same field. Fans and journalists traveled from far and wide to participate in this event and according to Rex Sinquefield, it exceeded expectations.
During the event, The Chess Drum was able to chat with a few of the journalists covering the event including Dan Lucas of U.S. Chess Life and Dirk Jan ten Geuzedam of New in Chess. Also submitting to interviews were England's Sabrina Chevannes and Italy's Janis Nisii. The event was viewed by millions over the seven-day period and social networks carried much of the excitement around the world.
Dan Lucas (right) having a chat with commentator GM Maurice Ashley
Daniel Lucas (U.S. Chess Life) – Lucas has been the Managing Editor of U.S. Chess Life since 2005 and has raised the profile of the magazine with its new look and professional quality. He spoke with The Chess Drum about the marvel of the Sinquefield Cup, the growth of chess and challenges of the flagship magazine (14:46 minutes).
Dirk Jan ten Geuzendam (New in Chess) – The Managing Editor of New In Chess magazine covered the Sinquefield Cup and spoke with The Chess Drum about his impressions of the tournament, the venue and the evolution of New in Chess.
"DJ" as he is called also reflected on the upcoming Anand-Carlsen match and the prospects for a future chess renaissance. New in Chess is based in the Netherlands and remains as the premier chess magazine (17:18 minutes).
WIM Sabrina Chevannes (ChessBase) – Came in from her native England to cover the Sinquefield Cup for ChessBase. Sabrina has been on a long sojourn in the U.S. and has been tweeting and writing about her experiences. Recently earned her WIM title and competed for England in the 2012 Chess Olympiad in Istanbul. She recently rebranded her academy into the London Academy of Chess and Education (LACE) and has a couple of ChessBase DVDs along with a new book which are targeted at beginners (8:33 minutes).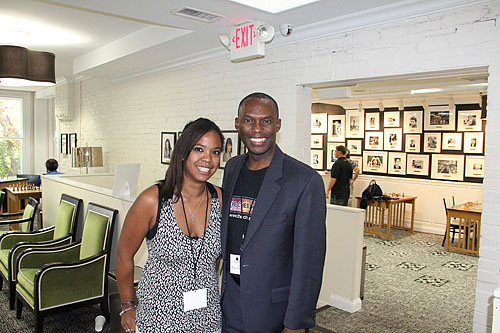 WIM Sabrina Chevannes with The Chess Drum's Daaim Shabazz
Janis Nisii ("64" and "Chess" magazines) – Janis has served as a chess journalist for the past several years and was in St. Louis covering the Cup for "64" magazine "Chess" magazines. Originally from Italy, she discusses with The Chess Drum her impressions of the event and her future plans (3:55 minutes).
Janis Nisii covering the 2013 Sinquefield Cup.
Photos by Daaim Shabazz.