2013 Sinquefield Cup: Round #6
In the finale' of this historic tournament, there was still uncertainty of the winner until the last game. It was an appropriate ending to what was a wonderful tournament that raised the barrier for tournaments in the U.S. It was a general consensus that the tournament was a rousing success and organizer Rex Sinquefield announced a repeat for next year.
So… the stage was set. Magnus Carlsen was a mere 1/2-point ahead of the field facing a tough battle with Levon Aronian while Hikaru Nakamura faced his national nemesis in Gata Kamsky. So again we have battle of 1s and 2s. The point of all this was that there was a possibility of a three-way tie if Aronian won and Nakamura scored a draw. In fact, it seemed as if the tournament would end this way.
Magnus Carlsen prepares for the ultimate battle against world's #2.
There was a crush of people witnessing history being made.
In the words of Morpheus… "Here we go!"
In Kamsky-Nakamura, the two would enter an exciting Najdorf variation. The game was highly theoretical and in fact both players were very familiar with the intricacies having played games this year in the line. However, instead of 7.Bc1 Kamsky played 7.Bg5. The game begin to pick up momentum after white chose 14.O-O instead of 14.Qe2. White then sacrificed a pawn 14…g4 15. hxg4 Bxg4 16. Qd2 Nd7 17. Nd5 Bxb2 18.Rab1 with good play.
Kamsky pressed for the attack throughout, but Nakamura defended well.
However, Nakamura held the position together tactically in this slugfest. Both players really gave it everything they had. Kamsky mentioned that he wanted to apply pressure and go for the win. Of course, this would have meant taking an undue risk of another heart-breaking loss. Kamsky had a very professional attitude and was in relatively good spirits despite being winless.
There were all types of ways to follow the action…
…in Lester's Sports Bar with a snack…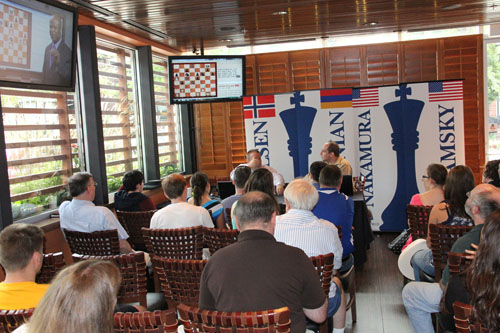 … in Lester's analysis room…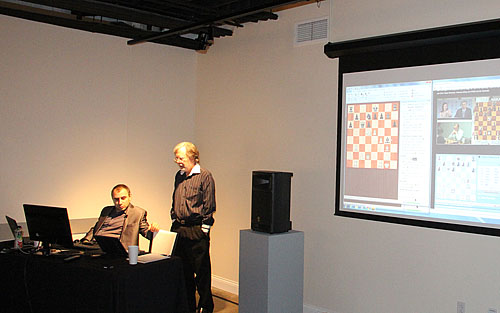 … in the World Chess Hall of Fame…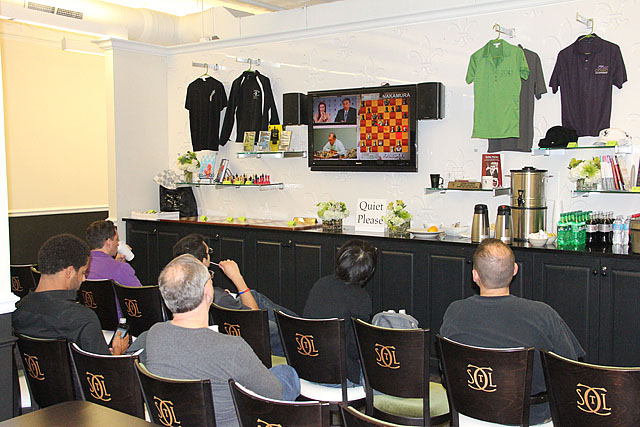 … in the St. Louis Chess Club…
… and of course the games monitors positioned throughout. A true smorgasbord of chess activity.
In the last game to finish, Carlsen-Aronian was a game of ebb and flows with the game moving dynamically from one evaluation to another. One thing that was agreed upon was that Aronian had totally outplayed Carlsen in the opening. In the post-tournament press conference, Carlsen admitted as much.
Carlsen played the Anti-Marshall, but got his pieces jumbled the same way Kamsky's pieces were jumbled in their game in round four. Despite the queenside pressure, Aronian dithered with king moves and Carlsen began to untangle his pieces. Aronian attempted an exchange sacrifice after 30…Rd4!? but it was declined by the astute 31.Ne1! setting a trap of 31…Rxe4?? 32.Nd3! Rb5 33.c4! In actuality, it was Aronian's knights that were clumsily tripping over each other.
Intensity is rising!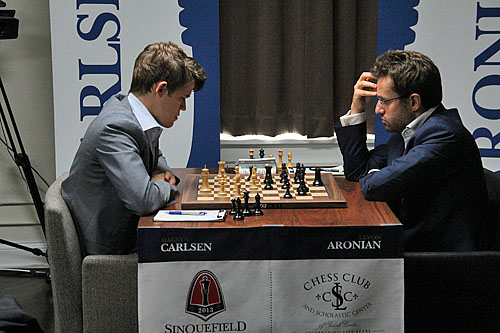 Seeing the advantage slip away, Aronian offered a three-fold repetition, but Carlsen decided to keep playing. Draw offer denied. Many lauded his courage since a draw would have clinched the tournament. At the point that the draw offer was declined, Aronian began to play strange moves and all of a sudden his position collapsed. "Losing that position is embarrassing," he said afterwards. On the other hand, Carlsen pressed on as if he was toughening himself for his pending match.
After Aronian conceded defeat, Carlsen was grateful for the tournament, thanked the organizers and felt that this was good training for his upcoming World Championship match against Viswanathan Anand. It certainly was a joy to watch four gladiators battle and there was no need for the "Sophia Rules". Each of the twelves games were relatively hard fought with a variety of openings played. This tournament will certainly become the subject of a book or DVD.
Journalists Row (L-R): Cathy Rogers, Daaim Shabazz, Mike Klein, Janis Nisii, Sabrina Chevannes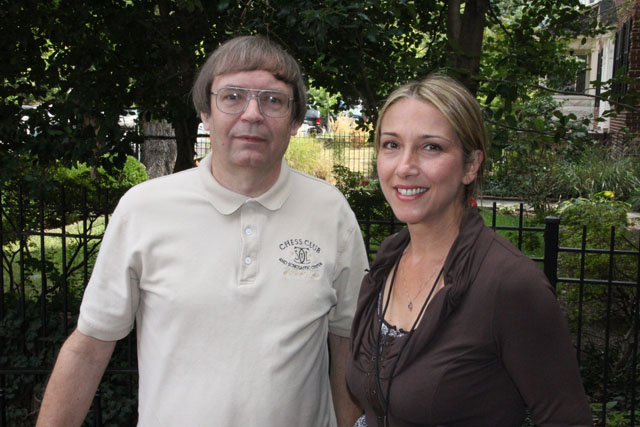 Even the journalists have fans! Ken Marshall (left) stated he was a self-professed fan of chess journalists and had followed the work of many. He is posing here with Italian journalist Janis Nisii who was covering the event for "64" magazine, a Russian chess publication and England's "Chess". Ken also has followed The Chess Drum. 🙂
GM Maurice Ashley and Dr. Daaim Shabazz… longtime comrades.
Photos by Daaim Shabazz.
This tournament was historic in a number of ways and the good news is it will be bigger and better. Such a legacy will cement St. Louis as one of the premier chess cities in the world. An improbable chess Mecca, it is now a place of unparalleled sophistication and professionalism. Millions of viewers watched the action and certainly the success of this event will be a boon to popularity in U.S. chess.
Very pleased to win Sinquefield Cup in St. Louis! Thanks for a great event @CCSCSL! pic.twitter.com/bFzE58ZsFJ

— Magnus Øen Carlsen (@MagnusCarlsen) September 15, 2013
Standings after Round 6
Magnus Carlsen 4½
Hikaru Nakamura 3½, Levon Aronian 2½, Gata Kamsky 1½