2013 Sinquefield Cup: Round #1
Carlsen wows audience… Nakamura capitalizes on blunder!
What a fantastic round to the inaugural Sinquefield Cup! Two decisive games with tremendous tension. The game of the day had to be Magnus Carlsen's win over an ambitious Gata Kamsky who drummed up what appeared to be a strong attack. Lev Aronian fought very hard to equalize against Hikaru Nakamura.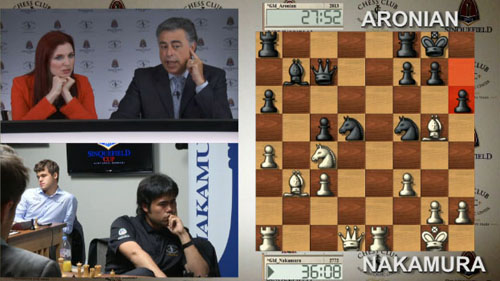 Tension was thick on both boards today.
GM Maurice Ashley's color commentary was ESPN-worthy.
There was so much anticipation of today's opening round. The Sinquefield Cup spared no expense to make this an unforgettable event. Local television crews were on hand to give media coverage and the event would feature a star-studded commentary team (GM Yasser Seirawan and WGM Jennifer Shahade team with GM Maurice Ashley) to bring the action to thousands of viewers.
In this position, black plays 30…Qb5?? with idea of an easy draw. The Armenian got a rude shock after Nakamura played 30.Qxb5 axb5 31.Nd7! Ouch.
After an eventful day of press-related events, the tournament got off to an exciting start and the first decisive result came in Nakamura-Aronian. During a Closed Ruy Lopez, white seized a slight positional pull, but Aronian had defensive resources.
After tension in the position, Aronian finally arrived at equality with 28.Nd2 Bxb3 29.Nxb3 Qxa4 30.Nxc5 only to blunder with 30…Qb5?? promptly losing the exchange. Nakamura banged out 31.Qxb5 axb5 32.Nd7 and Aronian went down with a whimper resigning at move 41.
There was a lot of attention of Carlsen, the world's top-rated player. He will be facing Viswanathan Anand in November for the World Championship and many wondered whether he would be hiding preparation. It turns out that he played a normal if not "tepid" opening as characterized by GM Maurice Ashley.
Carlsen worked the rust off in impressive fashion.
Photo by Sabrina Chevannes.
The position certainly had none of the dynamic play expected by two fierce fighters, but then Kamsky unfurled a rather crude plan of storming the white king's position. Fans and the commentators gasped at Kamsky's 14…h5!? which GM Nigel Short though was overambitious. We would then be treated to a wonderful lesson is how to repel a pawn storm.
Moves later after 25…f5, black had established a formidable pawn storm and the question became whether black's attack would arrive before white's queenside invasion of the c-file. The answers came soon enough. Carlsen then played a star move of 30.f3! which threatens to either close off the kingside or shred black's pawn mass. Houdini gave +.4 evaluation, but the impact on the position was greater. The momentum had shifted.
---
It's a good example of defending economically.
~Carlsen on 27.Rc2! and 30.f3 plan
---
In just a few moves, it became clear that the black king was the monarch in danger as the menacing double rooks lay in wait on the c-file. Throughout Carlsen appeared calm and it was clear that he had things under control all along. The battering ram along the c-file came into play after 33.Rc7+ Re7 34.Bxf6! Kxf6 35.Rc8! (+6.75 Houdini).
The black king is completely cornered by the heavy pieces as his queen looks on helplessly. It was a textbook example of how to exploit a pawn storm.
The black king scrambled for cover, but white pieces had invaded and the unusual mating attack initiated by 46.Kf3+ Kf6 47.Qg8! The king was cornered. Outstanding performance by Carlsen! He mentioned afterwards that he may have been a bit rusty and perhaps this is a good test before his match with Anand. He seemed to be impressed with the conditions of his first tournament in the U.S.
The venue had many, many visitors and yesterday there was a line snaking around the venue seeking autographs. The Armenians came by donning flags to see their national hero and of course Nakamura was a local favorite. There has not been this level of excitement for quite some time and perhaps America is ready for another chess renaissance not seen since Bobby Fischer.
Standings after Round 1
Hikaru Nakamura 1, Magnus Carlsen 1
Levon Aronian 0, Gata Kamsky 0