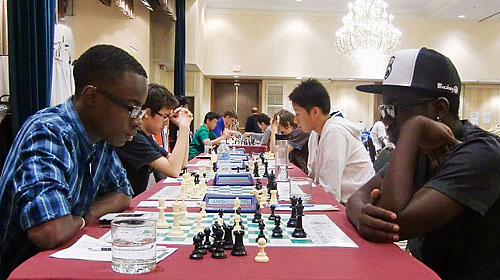 Justus Williams (right) faced Josh Colas in round six. That game would go four hours and Williams would prevail. Photo by John Upper.
Justus Williams may be the most disappointed person ever to earn an IM norm and FM title. The 15-year old scholastic star competed in the North American Youth Chess Championship and scored a sparkling 7/9 to tie for first with FM Akshat Chandra. So what happened? Leading going into the ninth and final round, Williams was a full point ahead of the field when he played Chandra. Needing only a draw, disaster struck. Williams lost the game and his opponent would move into a tie (with better tiebreaks). Nevertheless, an IM norm is a good consolation prize and certainly there will be more opportunities. Congratulations Justus!
Link: https://chess-math.org/toronto/naycc/standings.php
17 Responses to "1st IM Norm for Justus!"
Leave a Reply!