2013 World Chess Cup less than a week away!
In less one week, 128 players will assemble in Tromsø, Norway for the FIDE World Chess Cup. These players have qualified through a number of methods including rating, zonal tournament and nominations. The World Cup will be held from August 10th to September 3rd in Tromsø and the knockout format will seed the top two players into the World Championship cycle ending in 2014.
With the 128 players and a US$1.6 million fund, the first six rounds will be two games classical (40 moves in 90 minutes). If there is no winner then the following tiebreaks will be played until the tie is broken: two rapid games (25 moves with 10 seconds added), two blitz (10 minutes with 10 seconds added), two blitz (5 minutes with 3 seconds added) and one Armageddon game (draw odds). At the end of six round two players will play four classical games followed with the same successive tiebreaks as above.
The field is strong with practically all of the top 20 players competing. Veselin Topalov is a notable omission as well as former World Championship candidate Nigel Short. Of course Viswanathan Anand and Magnus Carlsen are gearing up for the November match and both will get automatic bids into the next cycle.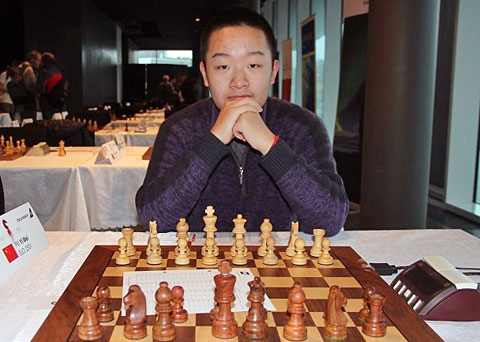 The world's youngest Grandmaster Wei Yi was nominated.
Photo by ChessBase.
Russia will have the largest contingent with 25 players, but not quite as dominant as in the past. China will have a strong contingent despite the absence of Wang Yue and Ding Liren. Both Hou Yifan and Wei Yi (world's youngest GM currently) look to make an impression. The Ukraine will also have a strong contingent including the Women's World Champion Anna Ushenina who will defend her crown against Hou Yifan later this year.
Is this Judit Polgar's last chance to qualify for title?
Photo from https://chess.ugrasport.com.
There will be a number of new faces such as Gillian Bwalya of Zambia who will face Vladimir Kramnik. Bwalya is a newcomer to top-level competition and only recently earned his IM title. The Peruvian sibling duo of Deysi and Jorge Cori will be competing and it may be the first time (in recent memory) a brother-sister duo has competed in this FIDE knockout tournament to qualify for the World Championship. While Americans will be lead by Hikaru Nakamura and Gata Kamsky, veterans are also in the field as Larry Christiansen of the U.S. will bringing his "rocking the rampants" style of play in a format suited for him. In the same vein, Judit Polgar was nominated by the FIDE President, a most appropriate selection.
The prize fund is US$1,600,000 with the following distribution (according to official site):
Round 1 losers: 64 x USD 6,000 (net 4,800) USD 384,000
Round 2 losers: 32 x USD 10,000 (net 8,000) USD 320,000
Round 3 losers: 16 x USD 16,000 (net 12,800) USD 256,000
Round 4 losers: 8 x USD 25,000 (net 20,000) USD 200,000
Round 5 losers: 4 x USD 35,000 (net 28,000) USD 140,000
Round 6 losers: 2 x USD 50,000 (net 40,000) USD 100,000
Runner-up: 1 x USD 80,000 (net 64,000) USD 80,000
World Cup winner: 1 x USD 120,000 (net 96,000) USD 120,000
Official Website: https://www.chessworldcup2013.com/
Rules and Regulations: https://www.chessworldcup2013.com/official-info/rules-and-regulations