Magnus Carlsen still sits atop the ELO list at 2864 after dipping four points. He had set a rating record getting to 2872, but his rating seems to have stabilized. The reality is Carlsen has no one to get rating points from in bunches. Until the rest of the top players gain about 30 more points, Carlsen will continue to inch along slowly gaining no more than a few points.
Was Topalov's win in Zug a sign that he is ready to climb back into title contention? Photo © ChessVibes.
There are three players at 2800+ with a cadre of players knocking on the door. Levon Aronian (2814) and Vladimir Kramnik (2803) are firmly ensconced as legimate 2800 members, while Viswanathan Anand (2786, +3) is trying to find his way back. Meanwhile there is a pack of players who are seeking to break that barrier. Hikaru Nakamura (2784, +9) is now rated #5 after a good performance at FIDE Grand Prix in Zug, Switzerland where he finished joint second with Carlsen behind Veselin Topalov (2784, -9).
Topalov has rejuvenated his chess after winning Zug, but stumbled in Norway. Inversely, Sergey Karjakin (2782, +15) inching higher… gaining the points he lost in Zug by winning in Norway. Alexander Grischuk (2779), Fabiano Caruana (2774) and Alexander Morozevich (2760) round out the top ten with no rating change. All three are currently playing in the FIDE Grand Prix in Thessaloniki, Greece.
When looking at the FIDE 100 list you will note a number of Russian players, but when you look at the age breakdown, China certainly has a bright future with many of their top brass in their 20s with a younger contingent of GMs rising! Wei Yi (2530) is one of the newest GMs and he is currently the world's youngest at 13… and has already beaten Maxime Vachier-Lagrave (2706, -12)! The Ukraine is strong with Vassily Ivanchuk (2753, -2) being the elder statesman, but with the rest of the Ukraine's top ten being born in the 80s.
Is there cause for concern with Hou Yifan's poor showings since losing her title? Photo by Anastasiya Karlovich for FIDE.
On the women's list, there has not been much change. Judit Polgar (2696) is perched at the top and is again about 100 points higher than the Humpy Koneru (2597) who was idle in the last period. Hou Yifan has dropped below 2600 (2595, -22) with a poor showing in the recent FIDE Grand Prix… losing four games! What is significant is that she lost to Anna Ushenina (2499, +8) from whom she will be trying to reclaim her crown in September.
One wonders if the loss of her crown in a controversial knockout format has had a damaging effect. There are no major changes in the women's list. Ushenina has moved into the top 20. It would be good to get her standing to the top ten by September so the match will not have such poor appeal. How does one explain to sponsors the #18 player being the World Champion?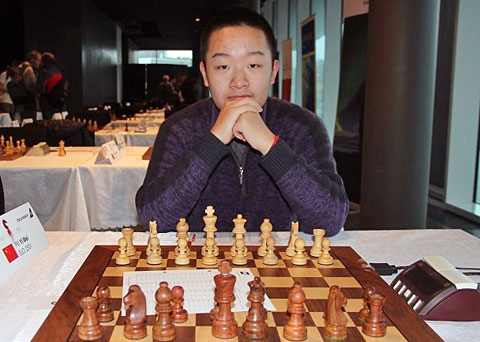 13-year old Wei Yi…the world's youngest GM.
Photo by ChessBase.
Anish Giri still sits atop the junior list (2734) with Wesley So (2705). So is based in the U.S. attending Webster University. He recently had a relatively poor showing at the Chicago Open, but will most likely be ready for the World Open. After approaching 2700, Yu Yangyi (2675) took a plummet a few months back, but is played in the strong Danzhou tournament in China and got 50%.
Wei Yi also got a respectable 50%. Richard Rapport (2674) has been playing very well as of late and was joint first at Sigeman & Co. with Nigel Short (2682) and Nils Grandelius (2544). The top 20 juniors are evenly-distributed with 12 different nations represented. The balance of power is slowly shifting away from the Russian sphere of power.