Kamsky, Krush… 2013 U.S. Champions!
While Alejandro Ramirez may have been the crowd favorite, his career tournament would not end with a fitting ending. Ramirez had talled a strong 6.5/9 along with Gata Kamsky, but Kamsky won the Armageddon game convincingly to win the 2013 U.S. Championship. The first two games were hard-fought but petered out into textbook rook and pawn endings. This included a rare stalemating tactic in game two.
Leading up to the Armageddon game, the intensity in the hall was so thick that you could cut it with a knife. There was a pitched silence as many spectators (including many of the participants) were anticipating the final showdown. Ramirez sat at the board meditating on the most important moment of his chess career. As the time approaches, Kamsky entered the room and the two shook hands.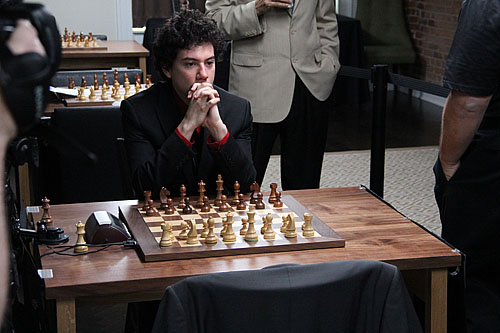 Alejandro Ramirez waits…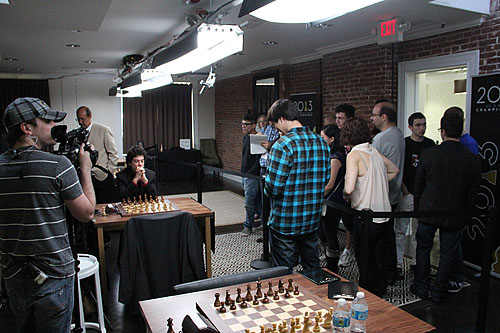 …and waits…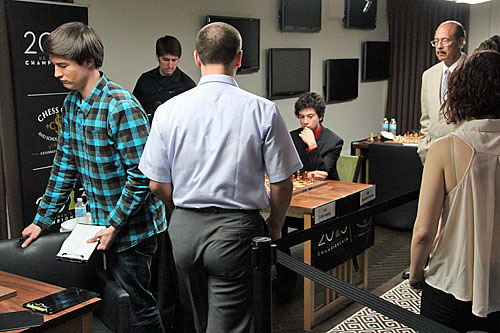 …Kamsky arrives!
Now Kamsky waits.
It's Armaggedon!
The game was another English and similar to game one, but in this Kamsky had a much tighter grip on the position and initiated with 25. f5 Bxd5 26. exd5 Ne5, tightened the grip with 27. Nb4 and collected a pawn with 27…Qa5 28. Bxc5 dxc5 29. Rxc5. Despite being two pawns down Ramirez stayed the course and was able to steer the game into an opposite-colored bishop ending. However, he lost another pawn and with white pawns on c- and h-files became too much to contend with. The game ended with the snappy 51.Rxe5! when on 51…Kxe5 52.c7 black resigned due to 52…Rc4 and 53. h7! Kamsky actually told Ramirez that at some point he was a tempo short of drawing in the ending! The move …e5 spoiled that chance. Thrilling battle!
Ramirez resigns. Kamsky is the new U.S. Champion!
Ramirez had become a crowd favorite as he acknowledged in a post-tournament interview that the support of his friends such as FM Elliott Liu and WGM Tatev Abrahamyan helped him tremendously. Liu was posting fun photos on Facebook and it appeared that Ramirez was enjoying himself in their outings. 😎
Ramirez mentioned that the tournaments where there is a good social atmosphere are the ones where he excels. Nevertheless, it was the best tournament that the Costa Rican native has had in his career and $20,000 prize is more than he's ever won. Ramirez's performance caps off what was a wonderful showing of young stars in the 2013 U.S. Championship.
GM Alejandro Ramirez receives prize from Rex and Jeannie Sinquefield.
The groundswell of U.S. talent as a result of scholastic chess has created an inertia that is certain to produce strong GM-level talent for years to come! In the 1980s and 1900s a cadre of Soviet emigres came to the U.S. and dominated. That curtain is closing, but what has resulted is these players functioning as coaches and imparting a wealth of talent. Certainly the next Fischer or Nakamura is emerging as we speak, but this tournament was won by a world class veteran. Maybe next year!
Gata Kamsky receives his check for US$30,000
for winning the U.S. Championship!
In the women's championship, Irina Krush won her fifth title, successfully defending her title from last year. She beat out her main rival Anna Zatonskih and both have traded titles for the last eight years.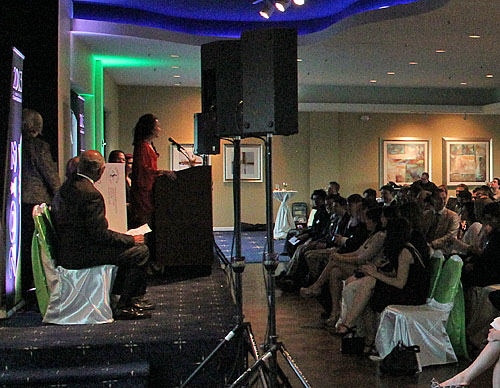 IM Irina Krush speaks about her championship run.
Photos by Daaim Shabazz.
GM Maurice Ashley told The Chess Drum in an interview that this is likened to the Chris Evert and Martina Navratilova rivalry and perhaps in the future we will see new stars emerge. It seems not long ago that Krush was a young teen selling her autographed cards at the World Open, but she has turned into a dominant force in women's chess and hopefully she will decide to enter the open field to raise the expectations and standards of women's play.
2013 U.S. Chess Championship

St. Louis, Missouri, USA

Final Standings

Rank
Name
Score
M/F
Rating
TPR
1
2
3
4
5
6
7
8
9
1
GM Kamsky, Gata
6.5
M
2741
2733
1
1
1
1
½
½
½
½
½
2
GM Ramirez, Alejandro
6.5
M
2551
2737
½
1
0
1
1
1
½
½
1
3
GM Onischuk, Alexander
6.0
M
2666
2670
½
½
1
1
1
½
½
½
½
4
GM Gareev, Timur
6.0
M
2674
2690
1
0
½
½
1
½
1
½
1
5
GM Holt, Conrad
5.5
M
2513
2679
1
½
1
0
½
1
½
1
0
6
GM Christiansen, Larry M
5.0
M
2579
2623
1
1
0
1
0
0
1
1
0
7
GM Shabalov, Alexander
5.0
M
2544
2626
0
1
1
0
0
1
1
0
1
8
GM Robson, Ray
5.0
M
2620
2613
½
0
0
1
1
1
0
1
½
9
IM Troff, Kayden W
5.0
M
2421
2614
1
0
0
½
1
½
½
1
½
10
GM Benjamin, Joel
5.0
M
2534
2644
½
1
½
1
½
0
1
0
½
11
GM Akobian, Varuzhan
5.0
M
2616
2554
½
½
1
0
½
½
0
1
1
12
Norowitz, Yaacov
4.5
M
2451
2543
0
½
½
1
½
½
0
½
1
13
GM Shankland, Samuel L
4.5
M
2612
2521
0
½
1
1
0
½
1
0
½
14
GM Kaidanov, Gregory S
4.0
M
2593
2457
1
½
0
½
½
½
½
½
0
15
GM Shulman, Yury
4.0
M
2570
2484
½
½
½
½
½
0
0
½
1
16
GM Finegold, Benjamin
4.0
M
2505
2522
½
½
0
0
½
1
1
½
0
17
FM Sevian, Samuel
4.0
M
2371
2474
½
½
0
½
0
½
1
½
½
18
GM Hess, Robert L
4.0
M
2595
2460
½
0
½
0
1
0
½
1
½
19
FM Bryant, John Daniel
3.5
M
2442
2471
½
1
1
0
½
½
0
0
0
20
GM Ivanov, Alexander
3.0
M
2529
2408
½
0
0
½
½
0
0
½
1
21
GM Arnold, Marc T
3.0
M
2538
2425
0
½
0
0
0
½
1
½
½
22
FM Sammour-Hasbun, J
3.0
M
2463
2422
0
0
1
½
0
1
½
0
0
23
GM Khachiyan, Melikset
3.0
M
2518
2431
½
½
½
½
0
0
0
½
½
24
GM Stripunsky, Alexander
3.0
M
2570
2415
0
½
1
0
1
½
0
0
0

Women

Rank
Name
Score
M/F
Rating
TPR
1
2
3
4
5
6
7
8
9
1
IM Krush, Irina
8.0
F
2470
2613
1
1
1
1
1
½
1
1
½
2
IM Zatonskih, Anna
7.5
F
2466
2535
1
1
0
1
½
1
1
1
1
3
WGM Abrahamyan, Tatev
6.5
F
2280
2446
1
1
½
1
½
1
½
0
1
4
WIM Zenyuk, Iryna
4.5
F
2243
2285
1
0
1
0
½
½
1
0
½
5
WGM Baginskaite, Camilla
4.5
F
2278
2281
½
0
1
½
½
0
½
1
½
6
WGM Foisor, Sabina
3.5
F
2300
2198
0
0
0
1
1
½
0
1
0
7
WGM Belakovskaia, A
3.0
F
2263
2157
0
1
1
0
0
0
½
0
½
8
WFM Kats, Alena
3.0
F
2144
2171
0
½
½
½
0
½
0
1
0
9
WFM Chiang, Sarah
2.5
F
2098
2130
0
0
0
0
0
1
½
0
1
10
WIM Ni, Viktorija
2.0
F
2262
2062
½
½
0
0
1
0
0
0
0

All PGN Games (Men, Women)