HHCF "Live the Game" Series in St. Louis!
The Hip-Hop Chess Federation
in conjuction with
The World Chess Hall of Fame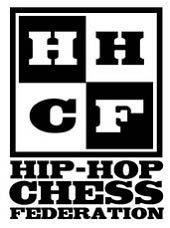 presents the
"Live the Game" HHCF Panel
St. Louis Public Library, Schlafly Branch
Schlafly meeting room… Wednesday, May 8th 4:00pm
1-888-588-4418
https://hiphopchess.blogspot.com/
Full Details here!!
LIVE THE GAME consists of a group of national experts who will discuss how chess and martial arts have been woven into the history of hip hop and how this powerful combination positively impacts our youth.
The presentation will be led by Adisa Banjoko, journalist and founder of the Hip Hop Chess Federation in San Francisco, which has used chess, hip hop, and martial arts to help mentor kids to make long ranging, responsible decisions. Adisa will be joined by Dr. James Peterson (founder of Hip Hop Scholars, LLC and Director of African Studies at Lehigh University), Mike Relm (YouTube video remix icon and co-founder of the Bishop Chronicles podcast show), Asheru (Peabody Award-winning journalist, creator of The Boondocks theme song, educator, and youth activist), and Alan "Gumby" Marques (Black belt in jiu-jitsu and founder of Heroes Martial Arts).
Directed by Mike Relm
We invite educators, community leaders, decision makers, and anyone concerned with using innovative methods to help support our youth and their potential. We hope you will attend this presentation, the first in a broader series of conversations, to help us discover applications we can use in Saint Louis.
The panel discussion will be held on May 8, 2013 at 4:00 p.m. at the St. Louis Public Library, Schlafly branch in the Schlafly meeting room. Afterward, the WCHOF will host a reception at the WCHOF (4652 Maryland Avenue) from 5:30 p.m.- 6:30 p.m.
---
"Chess is Jiu Jitsu for the mind. Jiu Jitsu is chess for the body." ~The Bishop
---
Please RSVP to Lauren Stewart at lauren.stewart@worldchesshof.org or (314) 367-9243 ext. 106.