World Candidates 2013-12: Carlsen shocked!
Round #12
Friday, 29 March 2013
Preview: Time is getting short. Three rounds left and one point separates the top three position. In a crucial battle today, Levon Aronian will face Vladimir Kramnik in a battle that may determine whether it is a two-horse race instead of a three-horse race. With Magnus Carlsen facing an out-of-form Vassily Ivanchuk, both of them must think about winning if Ivanchuk suffers another meltdown of time pressure. The pressure is on!
Magnus Carlsen was hoping to establish distance from the field against an erratic Vassily Ivanchuk. Photo by Ray Morris-Hill.
2013 World Championship Candidates
March 15th-April 4th, 2013 (London, England)

Round #12

#

Name

Flag

Rating

Result

Name

Flag

Rating

12.1
Carlsen

2872

0-1

Ivanchuk

2757
12.2
Gelfand

2740

½-½

Svidler

2747
12.3
Aronian

2809

0-1

Kramnik

2810
12.4
Radjabov

2793

½-½

Grischuk

2764
Overview: Amazing!!! An absolutely tense round unfolded today in London as the Candidates tournament took a dramatic turn. At one point the commentators did not know what to make out of the wild affair seen in Aronian-Kramnik. The game was a Tarrasch and the pace quickened before move 20. The game was so unclear that both players thought they were better! Take a look.
The move 17.Rc5 started the hostilities after 17…Qd6 18.Qc2!? fxe3. The piece sacrificed turned the board into an inferno as speculation buzzed on servers and amongst the commentators. There were a couple of occasions where Aronian could have played Rh5 but resisted the temptation.
Vladimir Kramnik has finally chased Carlsen and Aronian down. Photo by Ray Morris-Hill.
Aronian's 21.e4? left spectators gawking since 21…Qf4! appeared to be decisive, but Kramnik played 21…Rac8 and followed the forced line of 22. e5 Bxe5 23. Nxe5 Rxc5 24. Ng6+ Nxg6 25. dxc5. The Russian then uncorked the stunner 25…Be4! netting a piece.
Just when the verdict was deemed final Aronian found the resourceful 33.Rc3!! setting up a drawing position. Verdict? Not! The game sauntered on with white eating the queenside pawns, but then played a clunker in 50.g6?? (50.h6! draws). It was a devastating loss for Aronian and virtually knocks him from contention. Nevertheless he is a party to a game for the ages. What a battle!
In Carlsen-Ivanchuk, a Taimanov Sicilian where black got everything he wanted in a common structure. The key moment occurred after 18.bxc3 and 18…a5 which was criticized by an agitated Carlsen. He stated that he was playing for a win, but it appeared that he had a number of problems. These became real when Ivanchuk broke with 24…g5! and gained activity.
The game still had a number of tricks, but it turns out the Carlsen missed the crucial one… 71.Ke4! His chances begin to melt away rapidly. There were still some stalemating tricks, but this was not the f- and h-pawn rook ending which are commonly drawn (see Radjabov-Grischuk this round), but the e- and h-pawn. Ivanchuk did not suffer a time meltdown and converted smoothly.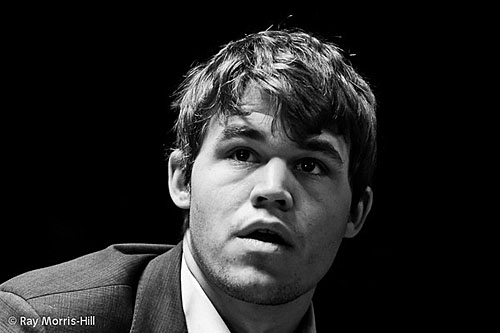 Magnus Carlsen's shocking loss threatens to overturn the predictions of many.
Photo by Ray Morris-Hill.
Carlsen's loss turned into name-calling and shouts of conspiracy on some websites. Many made excuses for the Carlsen debacle and some even analyzed scenarios where he could still win. There seems to be an implied support for Carlsen to win the tournament. However, it was simply a bad loss in a game where the world's highest rated player was outplayed in critical stages of the game.
While Carlsen's composure during the press conference was better than after the draw against Radjabov, he was visibly upset. He referred to his moves as "stupid" but more revealing was his statement that his play was "absolutely disgraceful from move one". This can be interpreted as entering the game in an uncomfortable state of mind. He will need to fix it or he'll be making this speech again.
Both Boris Gelfand and Peter Svidler may have the tournament record for most quick draws as their Grunfeld dance only lasted 40 moves. Conversely, Radjabov-Grischuk was a tough battle lasting 87 moves. The Azeri player may have been winning at some point, but ended up in the aforementioned drawn ending f+h rook ending. The game was rather complicated in the middlegame, but when the rook ending emerged, there was some precedence since Grischuk had the stronger side of this ending recently…twice. He drew it rather effortlessly.
Video by Daniel King.
Official Site: https://london2013.fide.com/
Photos by Ray Morris-Hill: https://raymorris-hill.smugmug.com/
Drum Coverage: https://www.thechessdrum.net/blog/2013/03/15/2013-world-championship-candidates-london/
Standings
Vladimir Kramnik, 8/12 (+4 -0 =8), Magnus Carlsen, 7.5/12 (+4 -1 =7), Levon Aronian, 6.5/12 (+4 -3 =5), Peter Svidler, 6/12 (+2 -2 =8), Boris Gelfand 5.5/12 (+2 -3 =7), Alexander Grischuk, 5.5/12 (+1 -2 =9), Vassily Ivanchuk, 5/12 (+2 -4 =6), Teimour Radjabov, 4/12 (+1 -5 =6)