GZA's CD box set includes a chess set!
According to Jake Paine's article in hiphopdx.com, GZA's "Liquid Swords" 4LP Box Set will be released with two CDs, liner notes and… a wooden chess set!! Most of the hip-hop world knows about GZA's love for chess and he has included chess themes in many of his songs. However, he has decided to share two of his passions with the world… music and chess. What a novel concept! It will certainly help to popularize the game in segments that have been untapped.
GZA participated in the 2007 All-Kings Invitational hosted by the Hip-Hop Chess Federation (HHCF). This was one of the landmark events of the organization whose mission is to combine hip-hop, chess and martial arts and present a message of non-violence.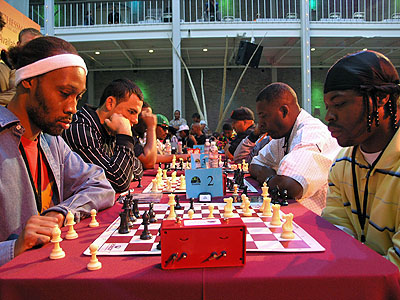 (front to back) RZA vs. Rugged Monk, Ralek Gracie vs. GZA, Amir vs. Casual, Sunspot Jonz vs. Paris. Photo by Daaim Shabazz.
The irony is that hip-hop (with its often violent images), martial arts (with its fierce fight scenes) and chess (mental combat) is part of a duality of opposites. The often violeny imagery associated with these artforms are actually designed to avoid conflict. Wu Tang member and GZA's cousin RZA spoke about these philosophies recently at Massachusetts Institute of Technology (MIT) as the HHCF's Adisa Banjoko did at Harvard University. This album hopes to popularize this concept. The CD originally came out last July and is being shipped in newly-packaged box set April 20th to include the chess set.
Da Mystery of Chessboxin' (1993)
(WARNING: strong language, violent themes)