World Candidates 2013-3: More fire!!
Round #3
Sunday, 17 March 2013
2013 World Championship Candidates
March 15th-April 4th, 2013 (London, England)

Round #3

#

Name

Flag

Rating

Result

Name

Flag

Rating

3.1
Gelfand

2740

0-1

Carlsen

2872
3.2
Ivanchuk

2757

0-1

Aronian

2809
3.3
Svidler

2747

1-0

Radjabov

2793
3.4
Kramnik

2810

½-½

Grischuk

2764
Overview: Today's games showed energy and ambition… with mixed results. Vassily Ivanchuk was attempting to change his course after losing a tough game yesterday. Today his experiment against Levon Aronian was punished. The Armenian played the best game of the tournament thus far with a number of hammerblows to capitalize on Ivanchuk's draconian 9. h4 attack. This approach didn't appear to fit with the setup. Aronian shifted the action to the queenside with a thunderous 14…b5! hoping that 15.Bxb5 Qb6 gives black an easy game.
Moves later, black used the pawn as a battering ram with 18…b4! (Diagram #1) White's king got stuck in the center and soon black's pieces were buzzing dangerously about the board. The final break of 29…e5 (Diagram #2) was an ambitious attempt to shatter two pawn islands at once. While aesthetically beautiful, it turns out that this was ill-advised.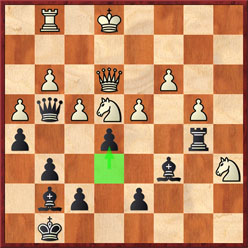 It is doubtful that Aronian was playing for the clock since he condemned such actions in the press conference. Nevertheless, Ivanchuk had his king dangling in the wind and black's queen lead a demolition forcing resignation. In the final position, black would play …Bf8 at some point and the swords were poised to skewer the exposed king.
Magnus Carlsen got his first win by persisting to grind down a beleaguered Boris Gelfand. In what appeared to be a rather equal ending, the world #1 ended up using his pawn majority and a well-placed knight in the center of the board to bring Gelfand's position to a collapse. Carlsen keeps pace with Aronian with a win. Long tournament, but it's important for Carlsen to keep sights on Aronian who seems to be in magnificent form.
Radjabov was punished for his overambition… Svidler is joint 2nd on 2/3.
Photo by Ray Morris-Hill.
Svidler-Radjabov resembled a Benko Gambit. However, black ended up playing for a queenside initiative that never materialized and white ended up on the stronger side of two minors against a rook. Svidler ending up with a mating attack forcing Radjabov to sacrifice an exchange and resign a few moves later.
Kramnik-Grischuk got nothing out of their Grunfeld conversation.
Video by GM Daniel King.
Official Site: https://london2013.fide.com/
Photos by Ray Morris-Hill: https://raymorris-hill.smugmug.com/
Drum Coverage: https://www.thechessdrum.net/blog/2013/03/15/2013-world-championship-candidates-london/