Tate @ the 2013 North American Open
We are into another year of chess and the U.S. circuit has already begun, but 2012 ended with a bang. The North American Open in Las Vegas had a strong open section with 80 players (16 GMs, 13 IMs) and perhaps a number of chess-turned poker players. World Series of Poker champion Ylon Schwartz was in that number.
However, most were hard-core chess players trying to make it big in Vegas. One surprise entrant was Li Chao of China was was top seed, but Emory Tate's appearance was also a bit unexpected since his play has been irregular for the past couple seasons. Tate has been based out in California even though his state affiliation says "AL" for Alabama.
While GM Timur Gareev won the tournament with 8/9, Tate got a respectable 5/9 losing against IM Lukas Cernousek, GM Alexander Shabalov and GM Tamaz Gelashvili while beating GM Nikola Mitkov and GM Arthur Chibukhchian. The latter game was a Tate classic…an attacking gem with a king hunt. The moves are not revealed here, but below are the key positions.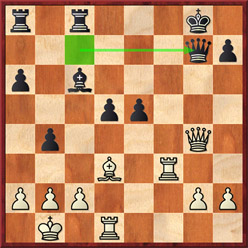 In diagram #1, Tate shatters black's position with 20.Nxg7! (which Tate gives a quadruple exclam) Kxg7 21. Qf6+ Kf8 22. e6! In diagram #2, black has just played 26…Qg7. There are many ways to win this position but the cleanest is Tate's 27.Bxh7+! Kxh7 28. Qh5+ Kg8 29. Rg3 1-0.
Following are a couple of his other games against GMs during the tournament. He beats GM Nikola Mitkov, but then falls on the sword against GM Alexander Shabalov. Good to see his fighting spirit on display.