Gray wins Margaret Prince Memorial!
The Chess Centre, Cavans Lane, Bridgetown
January 19th – 21st 2013



Jamaica Woman National Champion, Krishna Gray, won her final two matches to capture 1st place the as the curtain fell on the 2nd Margaret Prince Celebration Chess Tournament which was played over the weekend at The Chess Centre in Cavans Lane.
For Gray, going into the penultimate round on a four way tie with Former Barbados Woman Champion, Corrine Howard, Martinique Woman Champion, Camille Sauveur and Maria Thomas, her win against Woman Candidate Master Sheena Ramsay, a former Barbados Woman Champion, was the last real hurdle standing between her and the tournament title.
Gray then comfortably dispatched Guadeloupe's National Woman Champion Michelle Duboue in the final round to secure 1st place with 5 ½ points and repeat for Jamaica the performance of her compatriot Woman FIDE Master Deborah Richards who won the inaugural Margaret Prince Celebration back in 2009.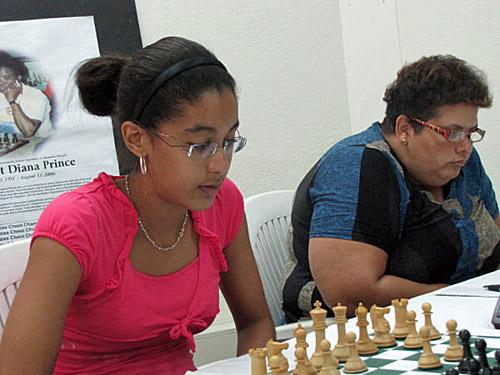 Camille Sauveur (Martinique) and Maria Thomas (Guyana) battle in their respective games. Thomas took 2nd place.
Maria Thomas of Guyana took 2nd placed on the tie break with 5 points from Trinidad & Tobago Woman Champion Aditi Soondarsingh. Thomas drew her 6th round game against Martinique Woman Champion Camille Sauveur and finished with a win against Lydia Nurse, a student of Queens College.
Soondarsingh, the top seed, recovered from a sluggish start in the tournament to take 3rd place with key round six and seven wins against current Barbados Woman Champion Katrina Blackman and former Barbados Woman Champion Donna Murray.
Former Barbados Woman Champion Corinne Howard, a member of the Chess Team in the UWI Sports Programme, was Barbados' top finisher taking 4th place with 4 ½ points.
Corine Howard (Barbados) and Adita Soondarsingh (Trinidad) analyse their 18-move game with Krishna Gray (Jamaica) watching. All three had short draws with the other two.
Howard who led the tournament from the start unfortunately had to miss her last round game in order to catch a flight to attend a family funeral in Antigua. She won her 6th round game against Murray to be tied on 1st with Gray going into the final round.
Not being unable to play her final game, Howard found herself out of contention for the top three positions and it was only by virtue of a hard fought draw by UWI team mate Blackman against Martinique's Sauveur in the last round that gave Howard 4th place on the better tie break from Sauveur.
Sheena Ramsey beat CAC Girls Under-14 Silver Medalist Gabrielle Cumberbatch of Harrison College in round 7 to end in 6th place with 3 ½ points. Katrina Blackman, on 3 points, placed 7th with the better tie break score from Lydia Nurse on 8th and Guadeloupe's Michelle Duboue in 9th. Donna Forde was 10th with 2 ½ point and Gabrielle Cumberbatch 11th with 1 point.
Krishna Gray of Jamaica accepting her 1st place award.
Photos by Barbados Chess Federation.
---
~Allan Herbert, Barbados Chess Federation