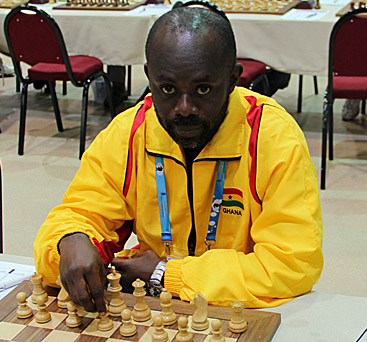 Defending Champion Kojo Hasford
representing Ghana at the Chess Olympiad in Istanbul.
Photo by Daaim Shabazz.
Received an announcement from Kwadwo Bonsu that Ghana will be holding its national championship beginning on the 22nd. There are a list of invitees below including the defending champion and Olympian, Kojo Hasford. Details are forthcoming as they become available.
The Ghanaian Chess Federation



presents the
Ghanaian National Championship
Media Centre of the Ohene Djan Sports Stadium 22-29 December 2012
SCHEDULE
Sat 22 Dec 2012
Game 1 – 0900 – 1200hrs
Game 2 – 1400 – 1700hrs

Sun 23 Dec 2012
Game 3 – 1500 – 1800hrs

Mon 24 Dec 2012
Game 4 – 0900 – 1200hrs
Game 5 – 1400 – 1700hrs

Wed 26 Dec 2012
Game 6 – 0900 – 1200hrs
Game 7 – 1400 – 1700hrs

Sat 29 Dec 2012
Game 8 – 0900 – 1200hrs,
Game 9 – 1400 – 1700hrs

* * *