Jamaica's Olympiad hits snag



With a bit less than a month left for the Chess Olympiad, teams are gearing up for the biennial festival/competition. Each year it appears that there are varying levels of preparation, but one of the most niggling issues is that of funding.
A recent story came out of Kingston, Jamaica from Jamaican Chess Federation President Ian Wilkinson appealing for assistance to fund the trip to Istanbul, Turkey for the 40th Olympiad. In a report by Claire Clarke, Wilkinson cited a $2.5 million Jamaican-dollar ($US28,082.50) shortfall in the funds needs to travel. Only J$500,000 has been raised thus far. This additional funding is needed immediately, or else the trip will truly be at risk.
Ian Wilkinson (center) at the 2004 FIDE General Assembly in Calvia, Spain with Derrick Perera (Sri Lanka) and Allan Herbert (Barbados). Photo by Daaim Shabazz.

Jamaica has been represented at Olympiad since 1978 missing only 1994 and 1996. The federation wants to be present during the 50th anniversary of Jamaica's independence and is calling on corporations for help.
Players registered to represent Jamaica in Turkey are: Open team: Fide Master Warren Elliot, International Master Jomo Pitterson, Candidate Master Duane Rowe, National Master Damion Davy and National Master Andrew Mellace.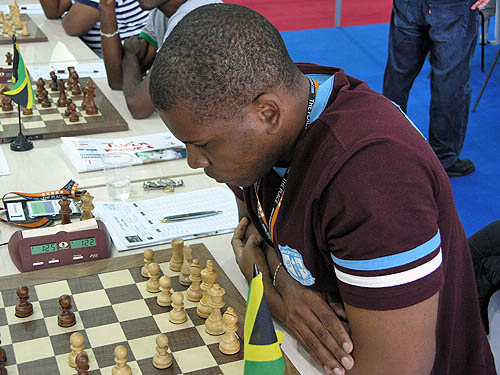 Jomo Pitterson of Jamaica at the 2006 Olympiad in Turin, Italy.
Photo by Daaim Shabazz.
Jamaica playing Jordan at 2008 Olympiad in Dresden, Germany: (right to left) Jamaica – Brandon Wilson, Duane Rowe, Shane Matthews, FM Warren Elliott. Photo by Ian Wilkinson.
Women's team: Women's Fide Master Deborah Richards-Porter, Krishna Gray, Women's Candidate Master Zhu Hui, Melisha Smith and Women's Candidate Master Ariel Barrett (story at 2012 Olympiad).
Jamaican Women's medal winning team at the 2010 Olympiad in Khanty-Mansiysk, Russia (L-R): Deborah Richards (board 1), Margoe Williams (board 4), Annesha Smith (board 5), Krishna Gray (board 2) and Ariel Barrett (board 3). Photo by Ian Wilkinson.
Full Story… https://jamaica-gleaner.com/gleaner/20120727/sports/sports8.html
* * *
For questions about assistance, contact Claire Clarke at yourchessmate@yahoo.com, or at the Chessmate Facebook page. Claire Clarke is a former women's national champion, three-time Jamaica women's team Chess Olympiad representative, trained journalist and editor.