Reflections on 2012 World Open
The World Open is a special tournament in U.S. history. Having finished its 40th version, the tournament will move to Arlington, Virginia next year. There are no clear plans on whether it will return to Philadelphia. Nevertheless, I have many good memories of the World Open. Here are some of them from the 2012 event.
best memories were…
having a room on the first floor and being able to take the stairs down a floor to the tournament 😉
scoring a respectable 4.5/9 in the under-2400 section;
the brotherhood and warmth shown toward me by Abdul Abdul-Basir and his compliments on The Chess Drum;
Abdul Abdul-Basir introducing me to his new wife :-);
Michael Taylor's afro;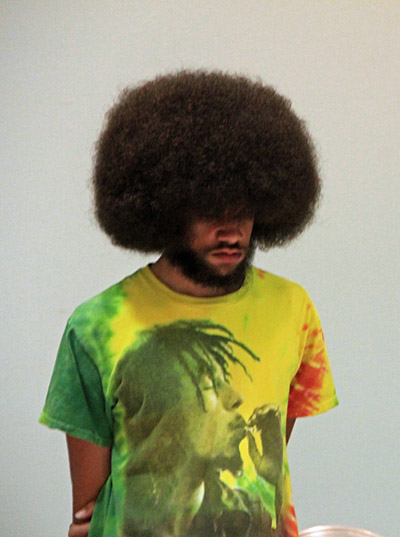 chatting briefly with Kassa Korley about his first year at Duke;
the large amount of young players playing in the top sections (Open, under-2400, under-2200);
seeing Bryon Small of the Bahamas;
walking to Whole Foods as a pleasant respite from the lack of food choices for vegans;
the beautifully-painted murals around the area;
seeing Kamanyola Bior of the Sudan;
sharing a laugh with FM Kazim Gulamali when I told him I had been playing bughouse lately;
lengthy analysis session with Michael Chiang after our last round encounter;
Analyzing with Michael Chiang after last round encounter.
We analyzed for at least two hours!
Photo by Oladapo Adu.
the Nieto twins (Guillermo and Manuel) 🙂
relieved at disappearance of rampant blitz gambling;
watching GM Ray Robson play tandem chess with other Grandmasters;
seeing the entire Colas family;
watching James Black, Jr. beat IM Gabriel Battaglini in a queen vs. three minor piece game;
interacting with the Nigerian players;
seeing Josh Colas and James Black, Jr. in the bookstore sharing insights on books and DVDs they were looking at;
finding a juice bar called "Honeygrow" and trying their mango, pineapple, ginger and mint smoothie;
chatting with Darrian Robinson and mother, Cenceria Edwards about Darrian's future;
Nisha Mohota of India… such a pleasant person :-);
watching Wesley So playing blitz;
watching Boyd Reed's professionalism as a tournament director.
worst memories were…
the absence of the vendors… especially the man with the chess drawings;
losing to Michael Finneran (2173) after getting a dominant position and then missing a drawn (but tricky) rook ending after going astray;
Losing to Finneran was a big disappointment putting me at 1½/6. I had to beat three Masters in a row to break even. Photo by Susan Grumer.
walking in 105-degree heat before playing;
the aloofness of Grandmasters between rounds, rarely socializing with anyone other than other Grandmasters;
the absence of top local players (i.e., FM Pete Rogers, NM Glenn Bady);
observing an overwhelmed Bill Goichberg.
The World Open has provided me with a lot of enjoyment over the years and I have participated every year since 2000. It is a tournament where lifetime friendships are created, memorable games are played and stars are born. As I stood talking to Kassa Korley about our fascination with chess, I pointed out that it is amazing that so many different types of people spend so much time with such an activity.
There can be many enhancements that will reinvigorate the World Open, make it more fun and inclusive and create an environment that is more festive. A noticeable absentee were some of the vendors. Chesstour Chess Association can make the World Open more professional and draw 1500-2000 players, but it would take some rethinking.
Nevertheless it is a great tournament and enjoyed by those who attend. Perhaps the tournament will get a new start in Virginia. Let us hope that besides the occasional world-class GM and contingents from India, that the World Open will continue as a marquee tournament internationally.
THANK YOU PHILADELPHIA!