WCC2012-7: Gelfand breaks through!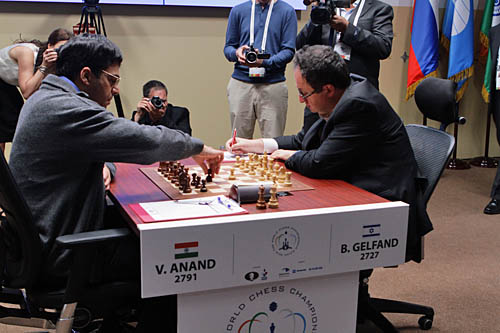 Boris Gelfand finally broke the spate of draws. The finish was impressive.
Photo by Alexey Yushenkov.
With six draws in a row, we are now pass the "feeling out" phase and now the fireworks should begin… and it did. Boris Gelfand got on the scoreboard for his first win in a classical game against Viswanathan Anand since 1993… that is 19 years. Gelfand faced a Semi-Slav and develop a very nice and fluid position. After 23.Qc2 and securing a nice advantage, Anand belted out 23…g5?! In an already desperate situation, the world champion's position collapsed and the challenger bore in with his knights. The game finished nicely with a minor piece mating attack.
Gelfand dominating after 31.Ne5 (diagram 1) as black has no useful moves. The challenger finishes the game nicely allowing black to queen with 38.Nxe6! (diagram 2) After 38…e1(Q) black cannot stop 39.Ng6+ and 40.Rg7#. Gelfand avoided the trap 38.Ng6+?? Kg8 39.Nxe6 due to 39…Rh1+! 40.Kxh1 e1(Q)+ and 41.Qxe6.
Game Analysis of Game #7
Video by GM Daniel King.
Official Site: https://moscow2012.fide.com/en/
Drum Coverage: https://www.thechessdrum.net/blog/2012/05/10/2012-world-championship-anand-vs-gelfand/