Nakamura, Krush lead U.S. fields
GM Hikaru Nakamura leads the field at the halfway point.
Photo by CCSCSL.
At the midway point of the U.S. Championship, two of the pre-tournament favorites are at the top of the leaderboard. Hikaru Nakamura leads the overall field on 4½/6 despite fighting a minor bout of sickness. Perennial favorite Irina Krush has been the most impressive in the women's field and leads on 4/5.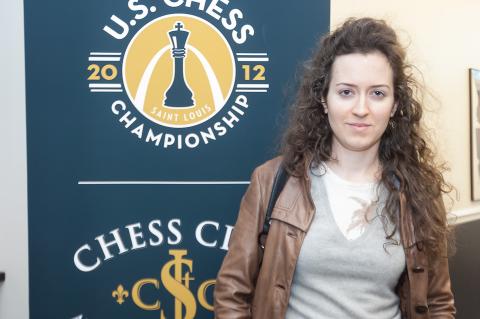 IM Irina Krush will attempt to hold the lead going into the second half.
Photo by CCSCSL.
This tournament is accented by the number of decisive games played in the open (21/36, 58.3%) and (17/25, 68%) in the women's. There has been some combative play, but the games have had high and low points. Low points in some of the blunders that have been played, yet some beautiful chess as seen in Nakamura-Kaidanov and Kaidanov-Hess.
There is still a long way to go in the tournament as the fans anticipate the marquee matchup between Hikaru Nakamura and defending champion Gata Kamsky in round 10. Irina Krush also plays Rusudan Goletiani in round 6 and defending champion Anna Zatonskih in round 7.
Link: https://www.uschesschamps.com/
Drum Coverage: https://www.thechessdrum.net/blog/2012/05/05/2012-u-s-championships/