The latest New in Chess has an intriguing story on Jose Raul Capablanca often dubbed "The Mozart of Chess". The story recounts some of his competitions during his time in the U.S. and Europe. His 1919 Hasting and 1924 New York tournaments were mentioned. While it is a lengthy prose, it is an enchanting story!
There is also a follow-up story to the Reykjavik Open with games from winner Fabiano Caruana and Hou Yifan. There was also a very interesting segway on Fischer's last days in Reykjavik and a new book titled, "Bobby Fischer Comes Home" by GM Helgi Olafsson. He quotes Fischer's last words as "I leave this to you."
This book appears to be a pleasant respite from other popular books which psychoanalyze the champion in harsh fashion. While the review did show he expressed harsh views until the end, this book appears to paint a more serene picture of the champion in a pleasant and welcoming atmosphere. This book is to be released on June 16, 2012 and has a foreword by Viswanathan Anand (See Amazon).
According to the review of Olafsson's book,
Bobby Fischer Comes Home is the story of their friendship. With a keen eye for detail and fine sense of humour, Olafsson paints a portrait of a complicated person. A man who could be at time funny and good-natured, at times bitter and barely bearable, almost always suspicious, but also touching, spontaneous and fun to be with. Filled with unforgettable scenes and revealing insights, the book presents a compelling picture of the last years of the man who many see as the greatest chess player that ever lived.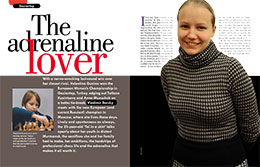 The 2012 European Women's Championships featured Valentina Gunina's triumph in a highly-contested tournament. There was actually a three-way tie with Tatiana Kosinteva (Russia) and Anna Muzychuk (Slovenia), but the Russian won on tiebreaks. "Valya" as she is called, rose meteorically in the Russian ranks after showing a prodigious talent. She was said to have a great eye for tactics earning the moniker "Tal in a skirt". Gunina often repeated her fondness for "adrenaline-inspired" activities.
Gunina caught the chess world's attention by her sterling performance at the 2010 Olympiad in Khanty Mansiysk where Russia won the gold and she scored 6½/7. There is an interesting interview of her throughout the article. At the end, she was asked about chess as a profession.
I think that any kind of sport is extremely selective. You need a multitude of different qualities. Above all, health. A small sprinkling of talent, as not everyone is given that. And, naturally, the ability to work. When I started working with coaches I realized that I could work eight hours a day. You need diligence.

The profession of a chess player is very difficult. You're always living out of suitcases. I don't know how people have families, as they're always on trips. Chess player are special people. We probably belong to the same group as writer and artists.
CONTENTS
NIC's Café
The Mozart of Chess
Problems in Plovdiv
Interview: Dmitri Jakovenko
Saturday Night Fever
Chess City Reykjavik
Bobby Fischer Comes Home
Beware, TN!!
The Adrenaline Lover
Through the Luking Glass
Baden-Baden again
Just Checking
Link: https://www.newinchess.com/New_In_Chess_2012_3-p-480.html