David Allen giving simul in Detroit
The Detroit Institute of Arts
hosts
National Master David Allen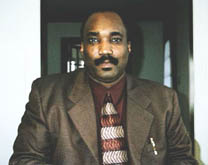 Contact: Pamela Marcil 313-833-7899 pmarcil@dia.org www.dia.org
April 27, 2012 (Detroit)—The Detroit Institute of Arts (DIA) will host national Chess Master David Allen in a simultaneous (simul) competition with 40–50 members of the Detroit City Chess Club (DCCC) on Friday, May 4, from 5:30 to 8:30 p.m.The museum is open until 10 p.m. every Friday night, and the event and other activities are free with museum admission.
Allen, who is from Cleveland and holds a Ph.D. in information technology, coaches Cleveland-area youth and high school chess teams and teaches Cleveland-area scholastic players. Detroit City Chess Club members range from five to 18 years old, and have won national, regional and state competitions, with several members currently holding impressive national rankings. DCCC practices at the DIA most Friday evenings.
Kevin Fite, DCCC founder and one of its coaches (standing left), started the club as a lunchtime activity at Detroit's Duffield Elementary School in 2003. The lunchtime program expanded and became the Detroit City Chess Club to allow participation of former Duffield students as well as students from all over metropolitan Detroit. The clubs' mission is to teach area students the game of chess and all the life lessons it has to offer. One of the most important, according to Fite, is "to teach children to think critically and make good judgments."
Fite uses simuls to develop the skills of his players, and they have competed in several at the DIA. They have played against International Master and Woman Grandmaster Martha Fierro, GM Ben Finegold, GM Maurice Ashley, National Master John Brooks and in 2010, Michigan's then- youngest master, in ninth grade at the time, Atula Shetty.
Thirty DCCC students taking on National Master Kayin Barclay then-freshman at Morehouse College. All photos by Daaim Shabazz.
Hours and Admission
Museum hours are 10 a.m.–4 p.m. Wednesdays and Thursdays, 10 a.m.–10 p.m. Fridays, and 10 a.m.–5 p.m. Saturdays and Sundays. Admission is $8 for adults, $6 for seniors, $4 for ages 6–17, and free for DIA members. For membership information call 313-833-7971.
# # #
The Detroit Institute of Arts (DIA), one of the premier art museums in the United States, is home to more than 60,000 works that comprise a multicultural survey of human creativity from ancient times through the 21st century. From the first Van Gogh painting to enter a U.S. museum (Self-Portrait, 1887), to Diego Rivera's world-renowned Detroit Industry murals (1932–33), the DIA's collection is known for its quality, range, and depth. The DIA's mission is to create opportunities for all visitors to find personal meaning in art.
Programs are made possible with support from the City of Detroit.