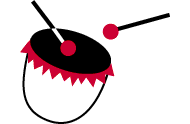 The Chess Drum has introduced a new segment called "Drum Beat". It is a video feature covering the latest news in chess around the world. In the inaugural half-hour segment, Daaim Shabazz gives a brief tour of the revamped home page, shows the latest Drum stories, takes a look at various chess websites and covers breaking chess stories.
The segment also examines news on the Twitter chess feeds and Facebook groups. In future segments, the Drum Beat will view the latest video clips and conduct some short interviews. Quality of the segments will improve over time and future segments will run between 15-20 minutes. Enjoy!!
Drum Beat (Volume 1)
2 Responses to ""Drum Beat" Vol. #1 launches!"
Good stuff Daaim! It is necessary to keep "re-inventing" oneself in order to be fresh, relevant etc!!!

All the very best on this new initiative.

on 24 Feb 2012 at 2:25 am

2

Quentin

Good stuff , Daaim.
Leave a Reply!