Kenya-Uganda chess clash!!












UG: Ugandan Team Set for Showdown with Kenyans
KE: NCC Simbas Roar Ahead of Historic Match Versus Ugandan Side
Posted on 10 February 2012
(Press release courtesy of Nairobi Chess Club)
Kenya's best chess players take on an elite Ugandan side this weekend in an event dubbed "Battle for Migingo". The historic encounter which kicks of at Goan Gymkhana at 8.30 am on 11th February 2012 is internationally rated by the World Chess Federation (FIDE) and players will be contesting for a floating trophy and regional bragging rights.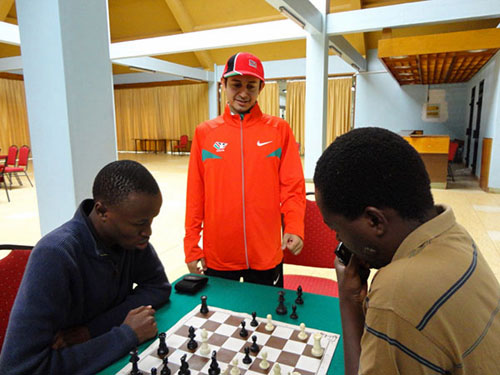 Mehul Gohil (standing) and Ben Magana (right) in a training session with Olympian Akello Atwoli.
Nairobi Chess Club (NCC), Kenya's oldest and biggest chess club, who are organising the event, will also be broadcasting the games live to an international audience consisting of Grandmasters and amateur enthusiasts alike via the premier internet chess portal playchess.com.
"This is going to be one of the biggest chess events in the region this year and there is already a lot of interest being shown by local players and even enthusiasts in the diaspora. It is only the second time in Kenyan history that a chess event held locally is going live on the net. Players around the world will be able to spectate, analyse and kibitz on games in real time. Chess clubs around the country will be able to see Kenya's best in action without having to travel all the way to Nairobi. Details on how to access the playchess po.comrtal for free are available on our website (www.nairobichessclub.com) and Facebook page," said NCC chairman Kim Bhari.
The event is also the first time in over 15 years for a Kenyan chess event to be internationally rated by FIDE. This will allow the participating players to fight for valuable ELO rating points, the measure by which chess players are gauged internationally. Chess Kenya assisted NCC in getting this event the exclusive FIDE rated status.
The NCC team will comprise of four Kenyan internationals:
Peter Gilruth – The most experienced Kenyan player in the squad and the reigning National Champion. He has played in a number of top events around the world including representing Kenya in the biennial Olympiads (World Team Championships) several times. His style of play is positional and he has fine endgame technique. Gilruth is also regarded as one of the leading chess theoreticians in East and Central Africa.
Ben Magana – A former Kenya champion and perennial national team player, Magana is considere to be a living legend in East African chess circles. His aggressive and highly tactical style of play has been an inspiration to many upcoming Kenyan players. He has keen board vision and is deadly when he has a direct attack against the enemy king. Magana was recently awarded the 2011 NCC Player of the Year award.
Mehul Gohil – A former Kenya Open champion, Gohil led the Kenyan charge during last year's All Africa games and was the best Kenyan performer in Maputo. He is regarded as the fastest chess player in Kenya having won the Kenya Blitz Championships several times. His style of play is hyper-modern and Gohil prefers playing strategically complex positions.
Githinji Hinga – A former Kenya Blitz Champion, Hinga is regarded at the new kid on the block having crashed into the Kenyan chess elite last year by qualifying for the national team. He has a knack for improvising in the complex positions. His style of play is universal and he can handle a wide variety of positions.
The Ugandan squad is no less talented and consists of: the captain Harold Wanyama, regarded as the finest player in East Africa and one of the best blitz players in Africa; Bob Bibasa, Uganda's most experienced international; Arthur Ssegwanyi, the reigning Ugandan champion; Haruna Nsubuga, reigning Ugandan junior champion and one of the biggest talents in East Africa.
"Both teams are evenly matched. The Ugandan players have the advantage in terms of having played in more FIDE rated events. In Kenya we have not had those kinds of tournaments for a long long time. FIDE rateds because of their stricter conditions are more tense. At this level any careless move is ruthlessly punished and this is the main difference from ordinary local events. FIDE rated players are a different breed from your local club player," said Mehul Gohil.
The event will be staged using the Scheveningen format of play. There will be 2 rounds each on Saturday and Sunday. The morning session runs from 8.30 am to 1 pm. Afternoon sessions are from 2 to 6.30 pm.