Interview with FM Kazim Gulamali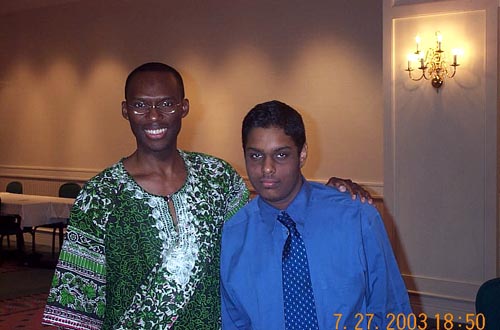 Daaim Shabazz and Kazim Gulamali at the 2003 Peach State Open.
Upon visiting the 2011 U.S. Open in Orlando, Florida, I caught up with my long-time friend FM Kazim Gulamali. Kazim is a New York-born, Atlanta-raised resident who began playing chess at the age of three. His father Mumtaz Yusef, a Pakistani immigrant, used to bring Kazim to the Atlanta Chess & Games Center to play in tournaments. His mother hails from Tanzania.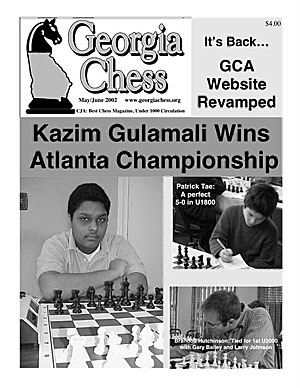 I met Kazim at the age of seven when his father brought him to the Atlanta chess club. Immediately I saw passion in his eyes and he would not get emotionally upset when losing. Incidentally, "Kazim" means "one who controls anger".
When he saw me in the club, he would always come up and say, "Wanna play?" I would never refuse and after our games, I would give him pointers. After seeing his talent grow, I told him that one day he would become stronger and make it to at least 2400.
After entering high school, he begin setting virtually every record in Atlanta scholastic chess and graced the covers of Georgia Chess magazine. He became a National Master before leaving high school and after scoring impressive results in national tournaments, he became a FIDE master. His USCF rating has been over 2400 for several years and he is currently Georgia's top player.
FM Kazim Gulamali with IM Stephen Muhammad as 2006 Georgia State co-champions.

An avid tennis player, he mentioned to me his match against the Netherlands' GM Loek Van Wely, but still has trouble getting past former Harvard standout, IM Marc Esserman. He is also an avid poker player, but appears dedicated to chess. At the U.S. Open, Kazim had 6.5/9 including a win over GM Julio Becerra. He also played an interesting game with Hikaru Nakamura starting with 1.d4 f5 2.c4 Nf6 3.Nc3 g6 4.h4!? and after sacrificing the exchange on the next couple of moves, he lost a tough struggle.
After the tournament, I interviewed him (for the first time) and he mentioned that he was thinking of playing abroad and going for IM/GM norms. He talked about a wide range of topics including his views on the upcoming World Championships match and future contenders including Nakamura. Currently he is a chess trainer and works with his long-time friend William Stewart on OnlineChessLessons.net site.
Interview with FM Kazim Gulamali
FM Kazim Gulamali playing against GM Tamar Gelashvili
at the 2011 U.S. Open. (See Games)