Nigeria hosts Nigel Short!
Nigeria Chess Federation has a big vision to hold a strong international tournament… on the grandest stage. They had even enlisted the appearance of former World Champion Boris Spassky before he was felled by a debilitating stroke. Since then, they have had to postpone the event until November, but they are moving forward with the plans. More information can be found about the Soyinka International here.
As a substitute for the previously-planned event they invited GM Nigel Short to give a simultaneous exhibition as a way of invoking interest and perhaps to keep the momentum going. Short game to Nigeria after his participation in the Commonwealth Championship in South Africa.
Short was met by Nigerian Chess Federation President Sani Mohammed, Nigeria's International Coordinator, Adekunle Elegbede and National Director of Sport, Patrik Ekeji and IM Odion Aikhoje. The British High Commissioner Andrew Lloyd also came to receive Short as well as Nigeria's Director of Programs, Victoria Ezeolkoli.
GM Nigel Short vs. IM Bunmi Olape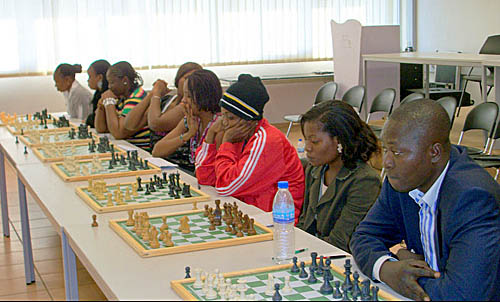 Nigerian Women's Team and one male competitor
Nigerian Youth Team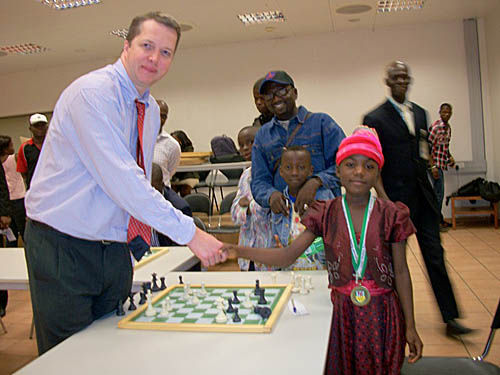 Iyefu Onoja from Benue State was the event's youngest simul competitor. The 7-year old and lasted over two hours against the Grandmaster! Iyefu was a bronze medalist at the recently concluded 'Garden City Games' National Sports Festival. Perhaps she is a talent to watch for the future.
In the end the English legend tallied 22.5 out of a possible 25. Draws were made by IM Bunmi Olape, Bomo Kigigha, John Fawole, Sunny Eyenghe and Oluwalasinu Seye. According to reports,
Being a complete gentleman, GM Short admitted that he was lost in a few of the games but only managed to hold on by mustering all of his experience! Notable was his game against Bomo Kigigha who was a full piece up and Lamide Ajibowo who failed to react accordingly in a simmering sicilian Najdorf when faced with a speculative and dubious Nd5 sacrifice.
Full report and more photos here!