2011 World Team Championship (Ningbo, China)
The bienniel World Team Championships will commence with round one on Sunday, July 17th. The ten teams are comprised of host China, Russia (defending champion), Ukraine, Israel Hungary (2010 Olympiad finishers), Azerbaijan, Egypt, India, USA (the continental champions) and Armenia (nomination from FIDE President). The field will prove to be very challenging and represent some of the strongest federations in the world.
Some of the strongest players will be present such as Levon Aronian (Armenia), Sergey Karjakin (Russia), Vassily Ivanchuk (Ukraine), Teimour Radjabov (Azerbaijan) and Gata Kamsky (USA). Some of the venerable names missing are Viswanathan Anand (India), Hikaru Nakamura (USA), Vladimir Kramnik (Russia), Ruslan Ponomariov (Ukraine) and Boris Gelfand (Israel). Kramnik, Nakamura and Ponomariov are at the 39th Dortmund Chess-Meeting.
This will be an interesting tournament as young talent will also be showcased. Host China will carry a very young and talented team with 17-year old Yu Yangyi (2672) and Chinese champion 18-year old Ding Liren (2654) anchoring the host nation. The Americans will trot out Robert Hess (2609), who was on the 2009 silver medal team, Egyptian duo of Ahmed Adly (2613) and Bassem Amin (2609) and Robert Hovhannisyan (2556) of Armenia who will be making his debut in the World Team event.
Live Games:
https://live.chinaqiyuan.com/chess2.html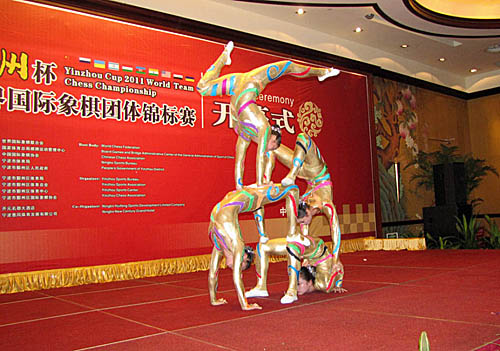 Photos by Fan Lulu, https://sports.sina.com.cn/chess/.