Lerrenzo "JR" Davis wins again!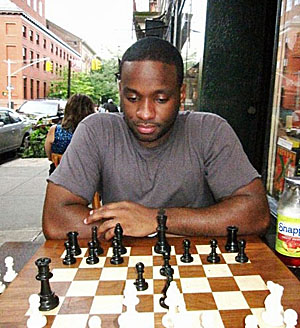 Lerrenzo Davis may be the only player in recent times to win two different sections in consecutive years at the World Open. Last year, Davis scored 8/9 in the under-1600 (beating out Khalee Ward) and this year he repeated the same 8/9 in the under-1800 to take home hefty $13,881. What is interesting is that both years he had the same scenario trailing the leader by 1/2-point and having the black pieces. Both times he won the finale to overtake the leader.
The Chess Drum caught up with the winner at 3:30am (after the blitz tournament) and got an idea of how he earned his success. Some will say you need a bit of luck to win at the World Open, but of course, there is no such thing as luck in chess. The personable young man from New Jersey has no secret to his success, but talks about playing games at the Marshall Chess Club and Thompson Street Shop against strong opposition. He also spoke of Jeremy Silman's Reassess Your Chess, but it is clear that he has the opportunities to improve his play in the New Jersey/New York area.
Interview with Lerrenzo Davis