The 20th annual Chicago Open takes place in Wheeling, Illinois which is about a 40-minute drive from downtown Chicago. Grandmasters from around the road are competing in one of the major U.S. tournaments in the summer circuit that carries a $100,000 guaranteed prize fund.
GM Pentala Harikrishna
Photo by Daaim Shabazz.
GM Pentala Harikrishna of India is the top seed at 2666. Other hopefuls are GM Tamaz Gelashvili of Georgia (2611) and GM Robert Hess (2601) who is one of the brightest young American stars in recent years.
FM Albert Chow attests to the strength of the juniors in a humorous anecdote. Photo by Daaim Shabazz.
There are also a number of young juniors in the field. FM Albert Chow, a long-time Chicago native described them as "little piranhas". After losing to John Veech he quipped, "I was once a piranha, but now they're me." Chow who got joint first in the U.S. Open in 1994 lamented that Grandmaster level trainers have given these young hopefuls formidable weapons. "For 20 moves, I'm playing a 2600-level Grandmaster!" He was also impressed by the strength of the female players noting that they have shed the look of fear present in previous decades. Welcome to American Swisses. The tournament ends on Memorial Day, May 30th.
Link: https://www.chicagoopen.net/
IMs Farai Mandizha (Zimbabwe) and Oladapo Adu (Nigeria) in battle!
Photo by Daaim Shabazz.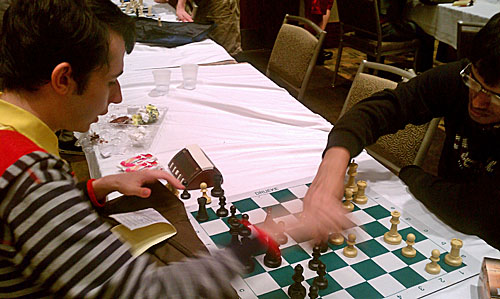 Aleksandr Lenderman analyzing with Pentala Harikrishna (1-0)
Photo by Daaim Shabazz.