Kangugi 'KK' Karanja featured on the cover of Executive Magazine (December 12 1988). Courtesy of Kim Bhari.
Kim Bhari has gone back into his chess archives and made available some vintage newsletters and pictures. For those in the U.S., they may remember a child prodigy named Kangugi "KK" Karanja who blazed the trail of scholastic chess in the 80s. At the time, he was one of the youngest players to reach National Master level. Karanja holds dual citizenship and has returned to Kenya on occasion to conduct simultaneous exhibitions. Below is a photo of one of the exhibitions given by Karanja.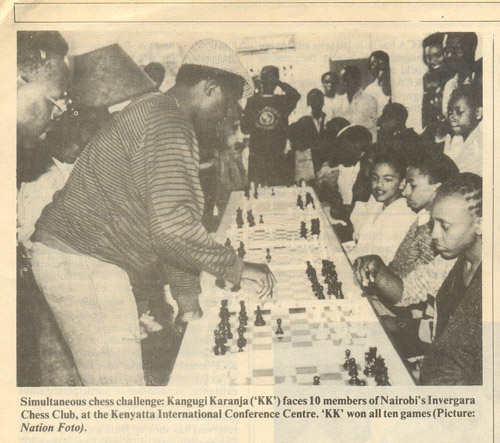 Having unearthed such valuable photos, Bhari can take pride in knowing that thousands of people in the worldwide chess community will be able to witness these moments in history. More archival documents can be seen at https://www.chesseventseac.com.