2010 Women's Chess Championship: Round #5
2010 Women World Chess Championship
Round #5 Pairings

#
Player
ELO

Nation

Flag

Player
ELO

Nation

Flag

1
Ruan
2480

CHN

Zhao
2474

CHN

2
Koneru
2600

IND

Hou
2591

CHN
Preview: As if on cue, China has made a statement on the world stage once again. They will boast three of the last four players in the 2010 Women's World Chess Championship in Antakya, Turkey. This will assure that at least one Chinese will play for the world crown. India will send their best into the semifinals and will try to become the first nation in a long time to hold both the men's and women's titles.
GMs Hou Yifan and Koneru Humpy in China-India showdown.
Koneru Humpy was eliminated by Hou Yifan in 2008 and India missed holding all the major world titles at the senior and junior levels. Abhijeet Gupta and Dronavali Harika were the Junior Champions in 2008 and Viswanthan Anand was the overall World Champion. She will have a second chance to play for the championship. Certainly Anand will place a call to Turkey to provide moral support.
In the other matchup, those who follow chess would be presumptuous to count out Zhao Xue who is now considered a veteran at age 25. She has been a successful player from many years compiling humungous scores for the Chinese Olympiad teams. Zhao will face an upstart Ruan Lufei, a doctoral student at the Carnegie-Mellon University in Pittsburgh, USA. Ruan eliminated defending World Champion, Alexandra Kosteniuk.
Round #5 – Game #1
Thursday, 16 December 2010
Hou breaks out on top… wins in textbook ending.
Ruan-Zhao, ½-½
Hou-Koneru, 1-0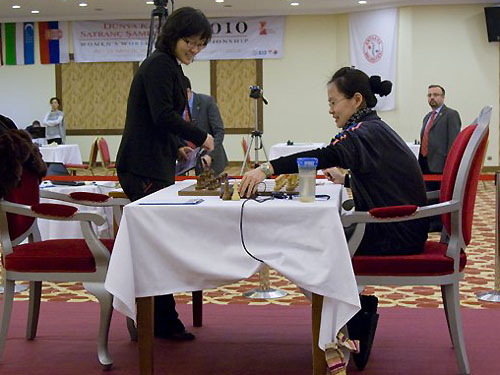 All smiles between Zhao Xue and Ruan Lufei. They drew quickly out of a Scotch Opening. Photo by wwcxc2010.tsf.org.tr.
Ruan-Zhao was an uneventful draw out of the Scotch and neither side seemed to be in a fighting mood. The game was draw in 25 moves. In the other matchup, China's Hou Yifan won the first game of the semifinal match against Koneru Humpy. The ending may have brought memories from Kramnik-Carlsen the other day when the former world champion could not win an ending with a subtle zugzwang maneuver. Today's game came out of a Berlin Defense and followed Sokolov-Salov, Bukhara 1981 until Hou played 13.Bb2. Black's pawn structure was compromised, but did not appear to be in any danger.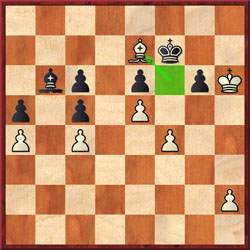 (Diagram #1) White uncorked 44.Bf6-e7 to set up a subtle zugzwang which looks stunning! However, upon further analysis, this amazing move only draws. Hou should play 44.h4! and only then after 44…Bc7 play 45.Be7!! (Diagram #2) Hou finished with the stunning 74.h4-h5!! After 74…gxh5 75.f5! exf5 76.e6 Bg3 77.e7 Kd7 78.a7 black resigned.
Hou offered to a trade of rooks and the game went into a bishop ending with like colors but tension was built for the next 20 moves. White has a space advantage and a better pawn structure. Hou decided to invade the kingside and set up a subtle zugzwang maneuver with the charming 44.Be7. In actuality, black can hold a draw, but decided instead to jettison a pawn to free her position. Hou continued to tighten the screws with magnificent technique. The game abruptly ended with a double pawn sacrifice and making way for a new queen. Excellent technique by the Chinese player.
Official Site
Drum Coverage
Round Five Results (MS-Excel)