2010 Chess Olympiad: Round #2
Top Boards (Open)
Ukraine 4-0 Scotland
Russia 2 3½-½ Venezuela
Mongolia ½-3½ USA
Israel 2-2 Indonesia
Albania 0-4 Poland
Round #2 of 2010 Chess Olympiad in session.
Photo by ugra-chess.com
Round #2 Analysis: The round brings a bit more parity, but there favorites are still expected to win. However, there were some notable upsets in the second round. The most notable upset beside Indonesia holding Israel was Vietnam's beating Azerbaijan. Nguyen Anh Dung (2500) win over Rauf Mamedov (2660) was the deciding factor. Playing black Nguyen pounced on the nice tactic 13…Nxe4! and white promptly had to donate an exchange. Black played very actively and went on to win in a smooth fashion. (See Mamedov-Nguyen)
Croatia bared its fangs and toppled Bulgaria after Ivan Saric caught Kiril Georgiev's king in the center of the board. Nice king hunt! (see Saric-Georgiev) While not much of an upset, Bosnia and Herzegovina's win over England certainly added its Olympiad woes. In Ivan Sokolov's win over Michael Adams, he sacrificed the exchange for a powerfully posted knight which when couple was passed pawns were too much to handle. (See Sokolov-Adams)
Magnus Carlsen drinks orange juice for his 2826 ELO, but China's Wang Yue has his own home secrets! Photo by ugra-chess.com.
In the regular scheme of things, Russia's teams are faring well, but it is not Russia 1 who is leading the pack. Russia 2 has gotten off to an impressive start with two wins including their 3½-½ decision over Venezuela. Russia 3 and Russia 5 are also on 2/2 and will face Cuba and Norway, respectively in round #3. Magnus Carlsen quipped on Twitter that he wanted to play Russia. He got his wish, but it will be Russia 5 tomorrow! Norway did its job today beating Portugal behind Carlsen. (See Carlsen-Galego)
The Ukraine is sitting on a perfect score after a 4-0 drubbing of Scotland. Poland and Georgia are the only two others with perfect scores. Russia 2, USA, India and Estonia are on 2/2 with 7½.
Round Results!
Games from Open Section (TWIC)
* * *
Top Boards (Women)
Russia 1 2½-1½ Scotland
Norway ½-3½ China
Ukraine 3½-½ Switzerland
Montenegro ½-3½ Georgia
Russia 2 2½-1½ Turkey
World Champion GM Alexandra Kosteniuk playing board #3 for Russia. Intimidating thought for opposition. Photo by chessdom.com.
Round #2 Analysis: Today's games were a shade of things to come. Russia 1 continues to defend homecourt, but the top-seed lost a point to the Bosnian team winning by a narrow 2½-1½ margin. Alisa Galliamova was hit by a brutal tactic losing a piece. (See Dedijer-Galliamova) Russia 2 also won by the same score against Turkey. The one thing that may hamper Russia is they will most likely play each other at some point and have possibly lose ground.
This tournament continues to be won with lopsided wins with fifteen 4-0 scores, eleven 3½-½ and fifteen 3-1 scores. Round #3 will begin seeing the top brass competing but it will be a long tournament indeed. Only Slovakia, Germany and Serbia have perfect match and board scores. There is a sextet of teams with 2/2 and 7½ points… China is one of them and will play Latvia. Round #4 will certainly find the strongest teams facing each other.
Round Results!
Games from Women's Section (TWIC)

* * *

African Diaspora Spotlight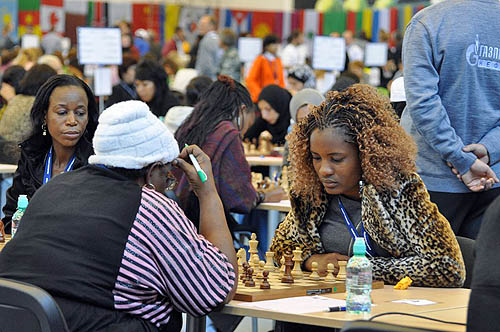 Botswana's Tshepiso Lopang in action while teammate Boikhutso Mudongo watches. Photo by chessdom.com.