FIDE Election hotly-contested in Africa
In 2006, Bessel Kok sent an emissary to Africa to try to garner support for his "The Right Move" program. English Grandmaster Nigel Short took on the task hoping to win support to unseat Kirsan Ilyumzhinov (pictured left). Short's trip swirled in controversy as he faced tough audiences both in Botswana and Zambia, camps supporting Ilyumzhinov. Four years later, the campaigning has returned with suitors buzzing around the world making their respective cases. Ilyumzhinov's "One World, One Vision" and Anatoly Karpov's "Karpov 2010" are now in full gear.
This campaign has been very active with both camps trying to secure support from the various federations. When it comes to Africa, there is an idea that the region is ignored until the elections are near. This is an oft-stated argument in African circles. However, in 2010, Africa is not being ignored and the stakes are much higher than sending a cache of sets and clocks to win support.
Recently Ilyumzhinov's "One World, One Vision" campaign organized what was billed as a "FIDE Africa Seminar". The agenda labels the participants as "FIDE Team". According to the letter sent out by FIDE Vice President Lewis Ncube,
The objective of the FIDE Africa Seminar is to equip the participants with updated chess administrative knowledge for the effective running of their Federations and to prepare them for effective participation in the 2010 FIDE Congress and other future events and meetings. (see invitation)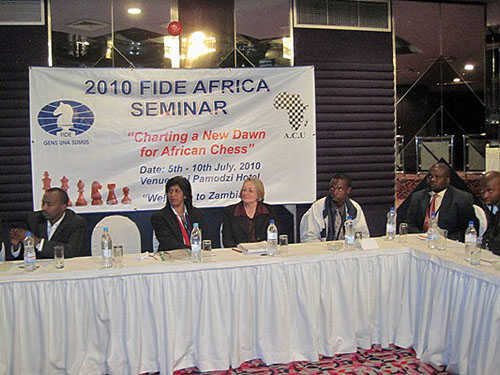 A few of the attentive delegates at the "FIDE Africa Seminar"
The letter was sent promising accomodation and plane tickets for participants. The hotel would be the five-star Taj Pamodzi which can run US$250.00 per night. Thus, no expense was spared to organize this event. However, problems started to surface when it was discovered that what was billed as a FIDE seminar was actually an event organized by the organization for the re-election of Ilyumzhinov. Nigel Short posted a comment on The Chess Drum blog,
Despite the deliberately misleading name "FIDE Africa Seminar" issued on official FIDE stationary, "FIDE" is not holding an Africa Seminar in Zambia. That would imply that the event in Lusaka is open to all African Federations, which it most certainly is not.

FIDE Vice President, Lewis Ncube, shamelessly admitted in a recent e-mail to the President of the Angolan Chess Federation, Dr. Aguinaldo Jaime, "The African Seminar I am hosting in Lusaka is on behalf of the Kirsan Ilyumzhinov ticket and is being funded by the FIDE President as part of our ticket's campaign." (see comment)
FIDE President Kirsan Ilyumzhinov is presented with a South African scarf by President of South Africa Chess Federation Ms. Emelia Ellappen. Photo courtesy of FIDE.com.
Angolan Federation President Dr. Aguinaldo Jaime complained at what he felt was an exclusion because he was led to believe that the seminar was for all African federations. He then produced a scathing letter condemning an event in which participants were selectively invited.
"It was my intention to attend the so-called 'FIDE Africa Seminar', to be held in Lusaka, from July 5th, because I mistakenly thought it was a FIDE event. In my mind, FIDE is an organization of all national Chess Federations and it is inconceivable that a Chess Federation be denied the right of participation in a FIDE initiative. To my great surprise, I came to learn, directly from FIDE Vice President, Lewis Ncube, that this event is not a "FIDE Africa Seminar" at all, but merely part of Kirsan Ilyumzhinov's re-election campaign. With this extraordinary admission of a brazen abuse of office from a senior FIDE official, I was told that I have no right, as President of a Chess Federation, to participate." (see letter)
Aguinaldo Jaime
President of Angola Chess Federation
If this accusation is true, it would be an embarrassing situation for the "One World, One Vision" campaign which is projected to have spent more than US$100,000 for the flights and hotel expenses. In response, Ncube told The Chess Drum,
"For the record, no FIDE funds were involved in the arranging of the seminar and you can verify this with Nigel Freeman. Dr Jaime was informed of this. Furthermore the invitations were sent from MY office as FIDE Vice President as the letterhead clearly indicates."
One point of contention may be the use of FIDE stationary for the "One World, One Vision" campaign and the use of the name "FIDE" on the seminar banner. This practice may be attacked on that grounds that it allows the "One World, One Vision" camp to imply an endorsement from FIDE, typically considered a breach of campaign protocol in political contests. Both campaigns exist as separate entities from FIDE and have their own organizational structure and supporting units. However, there does not appear to be a document on campaign protocol in the FIDE website.
Geoffrey Borg presenting to the African officials.
Photo courtesy of FIDE.com.
One of the most contentious aspects of a campaign is votes of support. There has been a lot of discussion on the importance of claiming federation support. "One World, One Vision" claims 75 supporters while the "Karpov 2010" camp has not released a number. Karpov's site has shown the flags of supporters. While each federation may give a formal endorsement (even in writing), there is still a lot of campaigning to do. In fact, there are cases where both camps are laying claim to the same federation.
There is also the problem of federations getting to Siberia to cast their votes. Covering expenses for Olympiad has always been a tricky affair in Africa. Thus, absentee voting may become important. Nevertheless, both camps will be garnering for the all-important Africa vote. There are was no significant media coverage on the "FIDE Africa Seminar," but from the pictures taken, it appears to have drawn at least 25-30 federation officials and most of the "One World, One Vision" campaign ticket. Karpov and his team is set to convene in Luanda, Angola in the coming weeks.
"FIDE President in Zambia," FIDE.com.
"Administrators Seminar 2010 in Lusaka," FIDE.com.