Nigeria planning Grand Tourney in '11



Kunle Elegbede is helping to plan something big. Recently an announcement was made that Nigerian chess community will be holding a US$50,000 prize tournament next July in honor of Nobel Laureate, Wole Soyinka. The tournament will be held on a grand scale in the capitol city of Abuja.
A press conference was held recently at National Stadium in Lagos to announce the event. Attending this historic announcement were: Vice Admiral Jubril Ayila, Dr. Silvanus Ebigwe, Theophilus Caiafas, Prof. Abisogun Leigh, Chief Dave Irabor and the incumbent President of Nigeria Chess Federation and DCP Sani Mohammed.
Former World Champion Boris Spassky has been invited to attend. All the details are laid out in a recently unveiled site. According to an article in Next newspaper, Ayinla stated:
Very little is known about Wole Soyinka and chess but it was only recently, through the hard work of the International Coordinator of the Nigeria Chess Federation, Kunle Elegbede, from his base in Houston, United States, that we got to learn that Wole was of kindred spirit.
He later added:
In the coming weeks and months leading up to this event, the organizing committee will reach out to friends, associates and admirers of Professor Soyinka, as well as lovers of the intellectual game of chess, both within and outside our shores, for sponsorship of this championship, as a perpetual reminder of his exemplary life and virtues.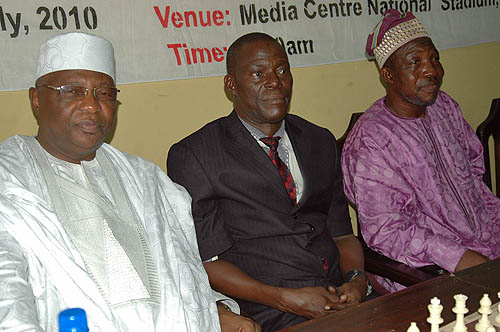 Left to right: Dr. Sylvanus Ebigwei, Former Chairman Nigeria Chess Federation(NCF) and one of the founding members of NCF, Sanni Mohamed, current NCF chairman, and Vice Admiral Jubril Ayinla, former Chief of Naval Staff and Minister in Nigeria and also former NCF chairman.
Ifeanyi Ibeh, "Record prize money anticipated for Soyinka chess tourney," 13 July 2010.
Official Site: https://www.soyinkachesstournament.com/