Black Stars shine at 2010 World Open
While the Black Stars of Ghana were unable to convert penalty kicks to beat Uruguay in the 2010 World Cup, 15 hours away another group of Black stars would square off against competition from around the world. The World Open is a venue where people from every demographic group come to compete on the largest stage America has to offer.
GM Amon Simutowe
All photos by Daaim Shabazz.
For players of African descent, the tournament serves a number of purposes. It is a time to reunite with friends and to pursue personal chess endeavors. There are norms and titles to earn and of course the attractive lure of big winnings. Of course each has an acute level of difficulty. Typically Black players have done well at this marquee tournament.
In the 2010 World Open, Black players were well-represented in a diverse sea of players. In the Open section, there was GM Amon Simutowe who is finishing his Master's degree at University of Texas-Dallas and has been accepted into eight elite schools for advanced study including Oxford, Harvard, Stanford, Columbia and Duke.
The Zambian national has been occupied with his studies and has not had much of a chess appetite. However, he came with a student and ended on a respectable 5.5/9, but certainly not a great performance by his standards. Nevertheless, he played an interesting draw with GM Evgeny Najer, the 2008 champion.
Kassa Korley will probably be getting his FM title soon as he approaches 2300 FIDE. He entered the Open section with norms on his mind. The New York native has narrowly missed a couple of International Master norms, but in this tournament he was never able to gain momentum and finished with an even score. There is no question that Korley is brimming with talent and needs opportunities to maintain the momentum. Sylvester Smarty decided to try the Open section and beat IM Marc Esserman in the first round. However, he stumbled for seven rounds before ending with a win and 3.5 points.
In the high-octane under-2400 section, several heavy hitters entered this section including the legendary IM Emory Tate and red-hot Farai Mandizha. The Zimbabwean recently earned "IM-elect" status after earning a norm at the Philadelphia International. IM Oladapo Adu is a mainstay in the American circuit and is always a threat in this section.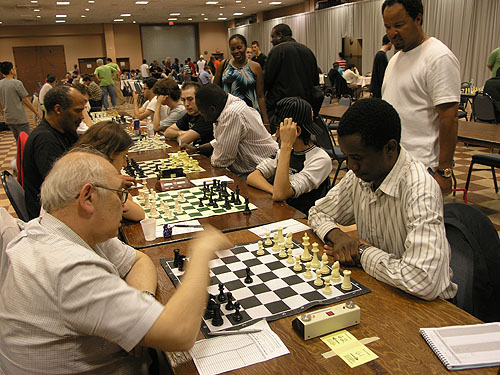 Top boards in under-2400 section. Epic battle unfolds between IM Emory Tate and IM Oladapo Adu. A surging IM-elect Farai Mandizha enroute to a last round win against FM Ilye Figler.

All three of these players were in the thick of things until the last two rounds. While Mandizha charged on, Tate dropped his last two games ousting him from contention and ending him on 5.5/9. One of the games he lost was to Adu, who finished with 7/9 and a share of joint 3rd. Mandizha closed with clear second on 7.5/9.
Justus Williams in action against FM Alex Barnett.
While these are great results, perhaps the best result among the Black players was turned by 12-year old Justus Williams. The scholastic All-American scored a strong 5.5/9 and including his win over FM Alexander Barnett.
Lawyer Times finished strongly on 5.5/9 after losing three of first four games. FM Norman Rogers and Okechukwu Iwu scored even with 4.5/9. Three other scholastic stars played up a section. Experts Darrian Robinson (3/9), Josh Colas (2.5/8) and James Black, Jr. (2/8) took some harsh lessons, but gained valuable experience against tough competition. There seems to be a friendly competition as four scholastic players played up.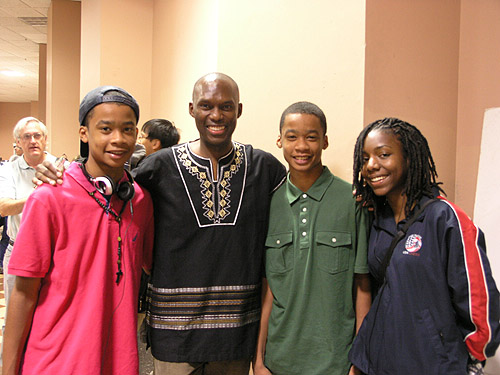 Nigel Bryant, Daaim Shabazz, Jehron Bryant, Darrian Robinson.
In the under-2200, Kola Adeyemi scored 6.5/9 for a share of 3rd place. Adekunle Ogunmefun was just out of the running with 6/9. Other plus scores were rising star Jehron Bryant who scored 5/9 as did Nigeria's Abiye Williams.
Some notable performances occurred in the under-1600 section. In the last round Khalee Ward was set to defend his 2008 under-1600 title and had 7.5/8 going into his last round encounter with Lerrenzo Davis who was on 7/8. Davis won the contest to take first place and a $10,345 paycheck. Ward settled for $3160.67. Also in the hunt was Brianna Conley who scored a spectacular 7/9 losing only one game.
Brianna's proud father Robert Conley remarked that this was her best performances. After the tournament, rising senior from Columbus, Ohio was headed to Harvard, Brown and Yale to look at schools. She will compete in the Polgar Girls later in the month.
Orrin Hudson of Besomeone, Inc. with Brianna Conley.
Last but not least, was the performance of Dwayne "Vortex" Darby. He scored 7.5/9 under-900 section and was interviewed about his performance. He gave credit to his coaches and gave an acknowledgment to his high school team, "The Dark Knights".
Video by Chess Scoop (Jennifer Shahade).
Standings: https://chesstournamentservices.com/cca/category/world-open/world-open-standings/
Games (Open): https://www.thechessdrum.net/palview4/worldopen2010.pgn
Photos:
https://www.facebook.com/album.php?aid=182385&id=513866269&l=14d7fc2035