WCC 2010-4: Anand crushes Topalov for +1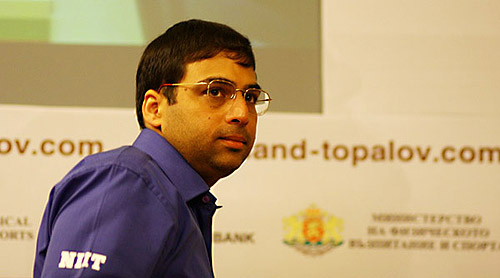 Anand is on a roll… wins again with 'Killer Catalan'!
Photo by Europe-Echecs.com.
World Champion Viswanathan Anand destroyed Challenger Veselin Topalov today in another "Killer Catalan". This time it would be Anand to deliever a crushing knight sacrifice to shatter black's king. The game evolved into a very interesting battle with Topalov deviating early with 5…Bb4+. Anand sacrificed a pawn for a strong center and pressure on black's light squares.
After 23.exf6! Anand's attack was unstoppable. Black's pieces are horribly overloaded as white is poised for a dangerous rook lift of Rd4-g4.
The position came to a head when 15.d5! was thrown on the board. Topalov solidified his queenside, but made a positional error with 20…h6. White seized the initiative with 21. Nd6 Qa7 22. Ng4 Rad8. The "Tiger from Chennai" then crashed through with 23.Nxh6+! gxh6 24. Qxh6 f6 25. e5 Bxg2 26. exf6!
With all of white's pieces in harmony, black scrambled to protect the bare king… to no avail. Anand finished the game swiftly and Topalov was dealt a devastating loss. A dejected Topalov must figure out a way to break the momentum. There are eight games left and it is not necessary that Topalov win the next game at all costs, but if he goes to -2, the match will be a forgone conclusion. (See Game #4)
Tomorrow is a rest day.
---
Drum Coverage!