March 2010 FIDE Rating list released!
Veselin Topalov briefly took the #1 spot during the Linares Super GM tournament, but then fell back off Magnus Carlsen (2813, +3) to remain in the #2 spot. The World Champion challenger is behind Carlsen by mere percentage points on the unofficial live list. Unfortunately, Linares did not make the calculations and the official list shows him eight points back (2805, +0). Topalov is gearing up for his big match with World Champion Viswanathan Anand (2787, -3).
GM Le Quang Liem (Vietnam)
Photo by WGM Yana Melnikova.
Vladimir Kramnik
(2790, +2) has supplanted Anand at the #3 position. He had a strong showing at Corus, but that was only worth an increase of .19 points.
Levon Aronian
(2782, +1) holds steady at #5 while
Shakhriyar Mamedyarov
(2760, +20) vaulted into the #6 position from #11.
Alexander Grischuk
(2756, +20) jumped eight places on the strength of his Russian Championship.
Peter Svidler (2750, +6) and Boris Gelfand (2750, -11) are tied for 8th-9th. Gelfand plummeted in the World Team Championship after his World Cup win. Chinese #1 Wang Yue (2749, +0) has been relatively inactive since bowing out of the World Cup. The biggest winner of the top 100 is Vietnam's Le Quang Liem (2689, +42), the winner of 2010 Aeroflot tournament. Hikaru Nakamura also saw a big gain (2735, +27).
In women's chess, Judit Polgar remained as "Queen of the Hill" (2682, +0) with Humpy Koneru closing in (2622, +8). At one time there was almost 200 ELO points separating the top two positions. Hou Yifan (2570, -20) dropped a ton of points after the Moscow Open. One lady rising on the horizon appears to be Nadezhda Kosintseva (2554, +21) who won the Russia Women's Championship. Zhao Xue (2490, -16) dropped under 2500 for the first time in three years and Ju Wenjun (2500, -12) is now the nation's #2. Zhao and Xu Yuhua (2478, +0) may be preparing to make way for the wealth of Chinese talent coming through.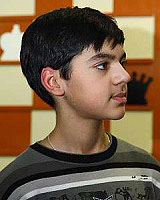 GM Anish Giri (Netherlands)
Photo by FIDE.com.
As far as juniors are concerned, Carlsen will remain at the top for as long as he is eligible. At 2813, he is almost 100 ELO points from
Maxime Vachier-Lagrave
(2727, -3).
Sergey Karjakin
(2725, +5) is on position #3 and
Le Quang Liem
(2689, +42) has been touted as the new young star on the scene.
Wesley So
(2665, +9) keeps gaining and is now the strongest Filipino player in history. So is in the #6 spot.
Anish Giri
(2624, +36) won Corus B and vaulted over 2600. He is the youngest on the top 20 junior list and has gained some notoriety for annotating games from the Linares tournament. Watch this young man!