5th Annual "Bum Rush the Boards"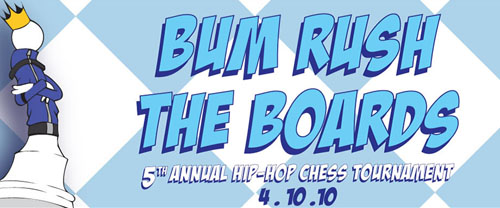 Chess + S.T.E.M. + Hip-Hop = Bum Rush the Boards
"They might think they've got a pretty good jump shot or a pretty good flow, but our kids can't all aspire to be the next LeBron or Lil' Wayne. I want them aspiring to be scientists and engineers, doctors and teachers, not just ballers and rappers."

President of the United States, Barack H. Obama, at the 100-year anniversary of the NAACP
On Saturday, April 10, 2010 from 10 a.m.-6 p.m., Words Beats & Life (WBL) in partnership with the Historical Society of Washington and the Columbia Heights Youth Club will host the fifth annual Bum Rush the Boards Hip-Hop Chess Tournament. The tournament will take place at the Historical Society of Washington located at 801 K St. NW at Mount Vernon Square Washington, DC 20001. Bum Rush the Boards was created by WBL in 2005 to promote strategic thought and actions within the hip-hop community. The name of the event was inspired by Public Enemy's album, "Yo! Bum Rush the Show" released in October 1987.
Lester Wallace "DJ 2-Tone Jones" of Words, Beats & Life
This year, Bum Rush the Boards will consist of 6 rounds of 30-minute team-based tournament play for intermediate and advanced youth, ages 5-23. Beginning Youth will participate in 3 rounds of 1 hour individual play. There will also be six 30-minute rounds rounds of individual tournament play for intermediate and advanced adults. These workshops give chess players the opportunity to have hands-on learning experiences based on the core elements of hip-hop culture. Participants will also participate in a series of S.T.E.M. -based workshops called "Engineering a Culture."
Beginning with our 2010 tournament, there will be a specific focus on career exploration in S.T.E.M.A. We know that S.T.E.M.A. is important because together, these areas of study and employment constitute key components of the creative economy, one of the largest employment sectors in the United States. Read More About Our S.T.E.M.A. based Approach!
~Mazi Mutafa
Registration: https://www.wblinc.org/bumrushreg.html
2009 Mixtape: https://wblinc.bandcamp.com/album/bum-rush-the-boards-official-events-mixtape 2010 mixtape coming March 20th!
Words Beats and Life
c/o Mr. Mazi Mutafa
1525 Newton St NW
Washington DC 20010
202-667-1192
mazi@wblinc.org