PRESS RELEASE
Contact: Mr. Kean A. Smith, President
242-323-5258 February 8th, 2010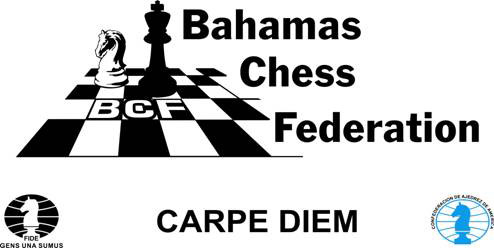 Grand Master Dave Norwood
plays Chess Simultaneous in The Bahamas
GM Dave Norwood presents a cheque to Kean Smith, President of the Bahamas Chess Federation before his 26 Board Simultaneous as Archie Nairn (centre) Permanent Secretary of the Ministry of Youth Sports and Culture looks on (BIS Photo/ Dereck Smith)

Kean Smith, President of The Bahamas Chess Federation (BCF) said that "The Bahamas Chess Federation (BCF) was delighted to welcome Grand Master Dave Norwood (2503) to Nassau. Last year September, GM Norwood visited Nassau and agreed to play a 30 board chess simultaneous when he returns in February, 2010.
In addition, he committed to raising $10,000 to help the BCF defray the costs of hosting the 15 country Caribbean Chess Sub Zonal which is schedule for June this year. We were delighted that he kept his commitments on both counts because without his support, we would not be the first country in the English Speaking Caribbean to host this tournament."
GM Norwood said that he is happy to assist with the development of chess in the Bahamas particularly because of its benefits to school age children and the community at large. He said that he looks forward to continue working with the BCF as much as his schedule permits.
Permanent Secretary of The Ministry of Youth, Sports and Culture, Mr. Archie Nairn brought remarks on behalf of the Minister of Sports, Hon. Charles Maynard. Mr. Nairn said that the Ministry is happy to see the progress the BCF has made and is making as a developing sport in the Bahamas. He continued by saying that he is delighted to see an annual resident like GM Norwood become part of the Bahamian community and support our development in such a tangible way. Mr. Nairn encouraged the BCF to develop chess in other islands. Following his comments, the Chess Simultaneous began.
GM Norwood begins his game with scholastic player Sanni Carlos
of St. Augustine College. Photo by Andre White.
GM Norwood is British born Grand Master who earned his title in 1989. In addition to being an Oxford graduate, he is the author of two chess books and is a former Chess Columnist at the Daily Telegraph. He is only the third GM to play a chess simultaneous in The Bahamas since the BCF became a member of the World Chess Federation (FIDE) in 1974. The other Grand Masters were GM Lothar Schmid who played a simultaneous in 1974 and GM Raymond Keene in the mid 1980's.
From left to right: GM Norwood, Wilshire Major, Polina Major and
BCF 2009 National Champion, Yan Lyansky (Photo/ Andre White)
In the photo above Norwood makes his move while his fiancée Rebecca kibitzes. Eight-year old Polina Major (wearing red cap) ponders her next moves while National Champion, Yan Lyansky, does the same. Polina is one of the up and coming players having played in the World Youth Chess Championship 2009 which was held in Turkey.
The Simultaneous was a great success. A total of 26 players from the Bahamian chess playing community participated in the simultaneous. Norwood won 24 games and was held to two draws. The players who drew with Norwood were 2008 National Chess Champion, Ken Gibson and Joseph Ferguson. They were both delighted with their result in the exhibition being the first Bahamians to draw with a GM in a chess simultaneous.
The Simultaneous attracted players who had remained inactive for many years like Marvin Taylor, Andrew Moss and Dereck Moss. It also attracted Hadren Simmons who is visiting the Bahamas from New Jersey, U.S.A. participated in the event.
From left to right: Kean Smith, Hadren Simmons and GM Norwood.
Photo by Andre White.