Frank Johnson has been in the game for a long time. Now he will begin passing on his experiences and passion in the game of chess by launching chess-coach.net. Many may not remember Johnson's successful e-mail chess program that was eventually snapped up by chess.net.
The Chicago-area native and Morehouse graduate has moved on and launched his latest project designed to helped provide coaching and training services for at-risk youth. So far, chess-coach.net has been a success.
Earlier this year I decided to redirect the purpose of the Chess-Coach.net domain towards working directly with inner city youth. I had been in Chicago for almost a year and witnessed personally the impact that positive chess instruction could have on our youth.
Of course, there have been many studies to link chess to improvement in many behavioral factors aiding in better cognition, analytical and spatial abilities. Johnson returned to Atlanta and decided to refocus the energy of his organization with an enhanced curriculum.
During the summer, I decided to test a curriculum idea I had been formulating during a summer camp in Northwest Atlanta. For nine weeks I directed youth ages 5-12 in leadership skills including public speaking and chess. This program was a rousing success.
One of the key concepts of this program is not to focus so much on chess skills as much as helping to shape a child's thinking. "Our goal at Chess-Coach.net is not to create champion chess players, but champion thinkers," asserts Johnson. Johnson has enlisted the services of USCF Expert Sedrick Prude.
Sedrick Prude coaching at a session.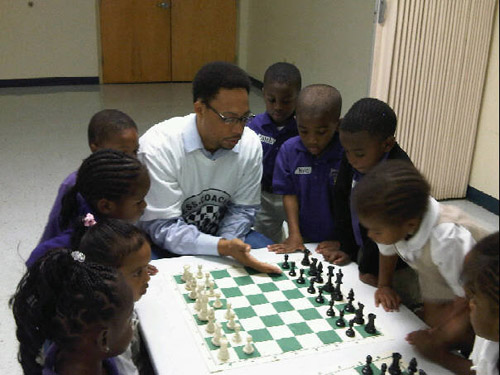 Frank Johnson showing the finer points.
12 Responses to "Johnson launches chess-coach.net!"
on 19 Oct 2009 at 3:12 pm

1

CJ Jones

Congratulations Bro Frank on your latest endeavor to allow the blessings of your life to bear fruit in the lives of others.

I have been a volunteer chess instructor in Southeast Texas for a number of years and while I have not mentored or found the next prodigy, I have encouraged a number of children to adapt and use our thinking process to multiple aspects of their lives. Better choices is our number one goal.

Whenever one of my old students comes up and tells me how much that chess club or just the attention that we spent on them individually meant to them, it makes it all worthwhile.

I will make a point of checking out your website and hopefully I will discover some new approaches that a B-player like myself can understand and pass on to the students in my area. I hope to restart my teaching efforts in early 2010 now that I have fully recovered from a number of personal trials in 2009.

Keep passing on those blessings!
CJ Jones

on 19 Oct 2009 at 7:47 pm

2

Michael Williams

keep it up frank… I still owe you "thrashing" in blitz, though..lol..
Let me know next time your coming to Philly.

on 22 Oct 2009 at 1:13 am

3

K.Moody

Being a chess enthusiast and fellow Atlantian, I commend you, Frank, for what you are doing and for, unselfishly, taking the time to cater to these at risk kids.
We need more people like yourself in our communities.

on 22 Oct 2009 at 8:02 am

4

Isaac M. Braswell

Yo Frank, I would like to congratulate you on your new project, espeacially for the fact that you are giving back to the community. Working with the youth and giving them something that will stimulate their minds in a more positive light. Also I see you have another positive brotha, Sedrick Prude A.K.A. "Big Pawn", an excellent choice to the team!
So keep up the good work and I hope to be hearing more good news from you soon!

on 22 Oct 2009 at 6:31 pm

5

JXL80

The expectations for teacher candidates are often low within schools of education where clear standards derived from objec- tive measurement have not been upheld. ,

on 30 Oct 2009 at 10:37 am

6

Barry Davis

Congratulation Mr. Johnson… finally someone else has hit upon the key element, "thinking", decision making. I have been singing the praises of this song a long time and appreciate where you are going and what you are doing. Especially each one teach one! Remember he said in his word, "I will use the simple things of this world to confound them!"

Wish I could send my son to Frank and coach my son chess games. my son is very Interested on playing chess he played chess almost everyday and challenge his classmates in school and his friends in our place.

You can go to the site chess-coach.net or e-mail him at frankjohnson@chess-coach.net

on 08 Nov 2009 at 11:36 am

9

Kimani A. Stancil

Brother Frank – Best wishes in developing this resource and your chess vision!

on 18 Nov 2009 at 12:54 pm

10

F. Furtner

Congratulations also to Frank Johnson on his new website – from his friends here at the American Medical Association Chess Club, in Chicago. While he was with us for a brief few months last year, he certainly left his mark. Frank's technical brilliance, funny wit, excellent coaching, and all-around spirit made us want to adopt him immediately. We were fortunate enough to have him play for us in several matches in our after-work chess league, from which many games remain memorable for the Johnson tricks and traps! We do miss him and wish him the best.

"Chess Basics 101"
USCF Certified Coach, Frank Johnson, chess-coach.net

Congratulations Frank on helping kids learn the great game of chess. Chess helps them to be better people and develops the self-esteem. Chess for education is a definite plus. Way to go!
Leave a Reply!