Johnson launches chess-coach.net!
Frank Johnson has been in the game for a long time. Now he will begin passing on his experiences and passion in the game of chess by launching chess-coach.net. Many may not remember Johnson's successful e-mail chess program that was eventually snapped up by chess.net.
The Chicago-area native and Morehouse graduate has moved on and launched his latest project designed to helped provide coaching and training services for at-risk youth. So far, chess-coach.net has been a success.
Earlier this year I decided to redirect the purpose of the Chess-Coach.net domain towards working directly with inner city youth. I had been in Chicago for almost a year and witnessed personally the impact that positive chess instruction could have on our youth.
Of course, there have been many studies to link chess to improvement in many behavioral factors aiding in better cognition, analytical and spatial abilities. Johnson returned to Atlanta and decided to refocus the energy of his organization with an enhanced curriculum.
During the summer, I decided to test a curriculum idea I had been formulating during a summer camp in Northwest Atlanta. For nine weeks I directed youth ages 5-12 in leadership skills including public speaking and chess. This program was a rousing success.
One of the key concepts of this program is not to focus so much on chess skills as much as helping to shape a child's thinking. "Our goal at Chess-Coach.net is not to create champion chess players, but champion thinkers," asserts Johnson. Johnson has enlisted the services of USCF Expert Sedrick Prude.
Sedrick Prude coaching at a session.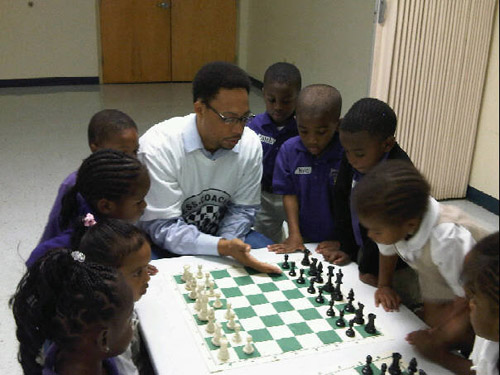 Frank Johnson showing the finer points.