New York is known by most accounts to be the "Mecca" of American chess. There are so many legendary stories borne in the "Big Apple" including Bobby Fischer and Hikaru Nakamura fame. Other colorful personalities such as Maurice Ashley and Asa Hoffman have made their marks. The latter being known as a famous chess hustler. In New York it is common to find any number of these players intermingling at the Marshall Chess Club or at any number of the open parks… the most famous being Washington Square Park.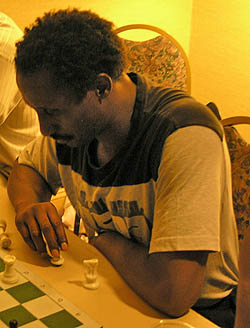 Shaala Hill knows the electricity caused by the chess crowds in New York and became enamored with the game in 2004. She told The Chess Drum that that parks are not as populated with players as they once were. Thus she has decided to host a "legends match" between to street legends. Both of these players are famous for their quick hands and blazing tactics. "Sammy" and "Po" will be matching wits in a turbo-charged, 21-game, five-minute blitz match pitting two of the most famous "street masters".
The Chess Drum last saw Sammy (pictured right) at the 2009 World Open putting on an impressive show of blitz in the skittles room. His quick tactical style and his bobbing in between moves are trademarks. "Po" is a veteran of the street game having played in Washington Square Park for decades and even getting a cameo appearance in the movie, "Searching for Bobby Fischer". Both are passionate and entertaining. Hopefully the games will be in the spirit of competition.
---
"Sammy" vs. "Po" Blitz Battle!
September 19, 2009 @ 3:30pm
St. Nicholas Park, 140th Street & St. Nicholas Avenue
Harlem, New York
---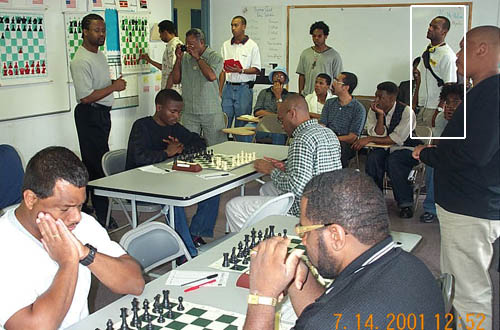 "Po" (in box) witnessing the beginning of the historic 2001 Wilbert Paige Memorial in Harlem, New York. GM Maurice Ashley watching IM (now GM) Amon Simutowe take on Canadian IM Michael Schleifer. FM Ronald Simpson takes on FM Norman Rogers. IM Watu Kobese (right) of South Africa also watches the action while waiting on opponent. Photo by Daaim Shabazz.
38 Responses to "Street Legends Battle in New York!"
on 17 Sep 2009 at 9:18 am

1

Michael Farris

It is interesting to have this type of match–greatness is always worthy of documentation. Oral tradition and physical referencing make for a greater tool in keeping events accessible and in the common memory.

The first time I saw "Poe" was in Washington Square Park in the summer of 1990. He was running one of the tables and playing Russian Paul. That day he was beating him convincingly. I played Poe a set of games and was up a game before he came back a won a couple. He was +1 or +2… don't remember.

He got into a verbal match with current poker star FM Ylon Schwartz about a stolen clock. Schwartz thought Poe had taken it. I remember him telling me he had roots in Nigeria, but haven't heard any more of this. I then saw him at the Wilbert Paige in 2001 and surprisingly at the Chicago Open one year! Hope he's doing well these days.

I met Sammy at the 2009 World Open in the skittles room. Very quick in blitz. Don't know much about him. Should be a good match, but not sure if Poe still has his game.

yes I played po some many years back, we used to have some pretty intersting games, I surprised like I did not know what speed chess was in the washington square , and he bought it hook line and sinker, I then proceeded to colect small amounts of american currency for my trobble, we met again at the new york open when it was at the ramada or the penta hotel, I had the advantage becasue he did not know me and gave me a little more credit than my game deserved, we drew, both were around 2000 then, I know I had to see him in the skittles rom, and he cleaned me pretty good, 7 – 4 po, but back then I was a bit of a legend:-)

In 1990, I remember Poe was probably around "A" (maybe Expert) strength, but Master strength in blitz. I certainly was no legend… I left my blitz prowess in Chicago by then. I was then an Atlanta grad student who was working in New York for a few months and frequented Washington Square Park. I was very rusty, but wanted to challenge these guys.

I did remember getting into a set with one other player plus Freeman Jackson. We went over to a basketball court and played a three-man rotation. I won our little tournament mainly because Jackson, a 2100, couldn't seem to beat me. Those were the last times I ever played any blitz games for money. Playing blitz this way never appealed to me.

I was disenchanted with antics this year at the World Open from the New York hustlers. Some were boisterous and caused a lot of turmoil in the skittles room. I hope they are not going to be interfering in this match with their sidebets… not a good vibe.

When were you a legend? 🙂

on 18 Sep 2009 at 9:39 pm

5

Michael Williams

Daaim, I remember Po from the late 80's coming down to the World Open..Pretty good player back then… he's plays poker a lot nowadays.. We were chatting earlier this summer in Atlantic City. That should be a good match.. I give Sammy a slight edge..

Po into poker… it figures. I guess it's where the money is. FM Ylon Schwartz is making big money playing and I guess he's the first Master-level chessplayer to reach the elite level in poker. Not sure where Walter Browne ranks, but Ylon is up there. Lots of New York chess guys becoming turncoats.

I'm going with Sammy only because I think he's sharper right now. Your point about Po playing poker makes me think this match won't be too close.

on 19 Sep 2009 at 11:22 pm

7

Mario Marshall

Don't forget Dan Harrington, Bill Robertie and on the British scene there was Stewart Rueben. I am not sure of Robertie and Rueben in poker results but they do have books on poker.

on 20 Sep 2009 at 8:11 am

8

Michael Williams

Yeah Dan Harrington actually hit the triple crown…Mass. state chess championships in 1971… World Cup of Backgammon in 1980 and the World Series of Poker in 1995. Probably needs to try checkers!lol…

What was Harrington's chess rating? Ylon reached 2400.

legend huh, in my mind brother daaim and that is all that matters, I too have not really played speed chess over the last 10 years however I might show up for the world open out of respect for the game and just to see all the brothers from all over . But po was always good at poker also even before it was popular, but his chess game was pretty strong in the late 80's and early 90's. My claim to fame is just simply setting back and letting the "hustlers" challenge me because of my quiet none aggressive persona , but that was back in the day, now I am just happy to observe all the energy coming towards the chess community! I think I still need to clear a few issues up with you daaim, will be in the south soon, looking forward to checking your game!

on 21 Sep 2009 at 4:17 pm

11

solomon

so just how many brothers are of the older generation, the middle, and new and rising young guns and how many of the older generation have continued the trade?? being somewhat new but of the middle generation i see few black players here in indy most have hung up their guns. but who are "po" and "sammy" and are there other colorful chess wizards??

Battle of Street Legends!
by Shaala Hill

On Saturday, we had beautiful weather and approximately 70 viewers attended (which included Masters, Jerald Times and Ernest Colding… my little sweetheart, Joshua Colas, and his father) with a backdrop of young adults on the basketball court and children on/in the playground. Many others were quite enthused about the match; however, had committed to fight and football parties, in and out of town.

I had no budget for this event and could not hire anyone to capture it on film. That's when synchronicity occurred. Brad, "the Bradinator" (last name unknown to me), a St. Nicholas/Bronx chess buddy, introduced me to a friend of his/ Canadian Film-maker, Eric Schachter, of Garage Movies (who I met on Friday, the 18th), who had already met and adored the St. Nicholas chess players and park-goers. He had been wanting to film something all summer, but hadn't a theme. He generously donated his talent, time, and film equipment to document this, my premiere event. Some games, not all…as I had hoped, were recorded, in their entirety, as he was working alone.

I wish that I could have also captured the look on many people's faces, as they reminisced about the old days, when they knew Sammy and Po in their primes. Right in front of me, they appeared to have traveled back to those days and relived, just for a minute or two, the exhilaration, the excitement and the awe for both players. It was wonderful to witness.

THE MATCH

Sammy was quiet and distant, none of his usual trash-talking. I honestly believe he had heavy things on his mind, as life happens to us all, but he wanted to honor his promise to me, so he came. He played solidly, but did not display any of his killer tactics and did not share any of his witticisms.

Po was bright and energetic, even though he had just jumped off of a flight and came directly to the park. He was focused and played well.

FINAL SCORE

PO: 11 SAMMY: 4 DRAWS: 6

PRIZES: A 60-40 Split of a small purse and a book for both players (the same book, about testing and evaluating one's chess game), by IM Danny Kopec, donated by the USCF. The all important, "Bragging Rights," gained by the winner.

COMMENTS DURING AND AFTER THE GAME:
>(After the first three games…) "They both seem to really want it (the title of winner)!"
>"Po is a man-eater!"
>"People don't know that Po is no joke. Even though he plays backgammon and poker, he still plays masterful chess. He is good at all games."
>"My man, Sammy, is a killer! He's just warming up."
>"Sammy is distracted. They need to have a rematch……maybe 2 more like this….then take the best 2 out of 3."
>"Po came in as the underdog. Everyone was sure that Sammy would take it, hands down!"
>"Po won, he doesn't have to prove himself."
>"Sammy plays much stronger than this….where is he today? They have to do this over."

Thanks,
Shaala L. Hill

solomon,

Lot of young guns out of New York! Too many to list here, but I plan on doing a report. There are some bright prospects.

hummm, for my young brothers, please visit all of the east coast, more stronger players seem to be located there. New York, New Jersey and Baltimore, and D.C . Host a lot of the talent, although there are a few upstarts who have earned there street creditability in the midwest also, indy is slow but a few hard hitters there also, you stay there long enough tate might be in front of you:-)

I think a call to the B.F.O.C. is required for the midwest, I know a few strong representitves in that group of Chicago legends also!!!

solomon,

To be honest, many of the old guard are aging and don't play as much as in previous years. Some are even playing poker. Your homeboy Bernie Parham is still going. However, IM Emory Tate, FM William Morrison and FM Norman Rogers are the only top Black players 2300+ who are still consistent.

On the world stage, GMs Amon Simutowe (Zambia) and Pontus Carlsson (Sweden) are active as is IM Oladapo Adu (Nigeria) who is based in Maryland. GM Maurice Ashley hasn't played seriously since 2003… and time is moving fast. Here is a classic picture from the World Open.

Drum Majors at 2009 World Open (L-R): NM Dr. Okechukwu Iwu, IM Oladapo Adu, FM Farai Mandizha, IM Emory Tate, FM William Morrison, NM Norman Rogers.

It will take another five years before we get our new crop of young masters. We have a couple of young Masters in New York's Kassa Korley (2279, age 16) and Chicago's Kayin Barclay (2212, age 19) who is a sophomore at Morehouse; Jimmy Canty III (2165, age 16) is a junior at Detroit's Cass Tech. There is one high school player named Adonis Turner (2100, age 17) out of the Philly Pittsburgh area.

There are brothers from all over the U.S. who still play, but you really have to come to the big tournaments to see them. There are many "street legends" dotted around the midwest in Chicago, Detroit, Columbus and Cleveland… if you're talking about blitz. Check out the story I did on Washington Square Park some time ago. There are some out on the west coast too. These "street players" are strong at blitz, but typically do not fare well in regular time controls.

The younger talent seems to be concentrated in New York primarily. I don't know of any rising stars in DC/Maryland area. All of the players below are under 15 and are on the top 100 lists for their age categories.

Justus Williams (2051, age 11)
Josh Colas (2020, age 10)
Darrian Robinson (1973, age 14)
Jehron Bryant (1961, age 13)
Rochelle Ballantyne (1862, age 13)
James Black (1841, age 10)

Outside of New York, there is Isaiah Gadson (1975, age 13) out of St. Louis, Missouri.

We are still trying to assess the strength of Diamond Abdur-Shakoor.

on 23 Sep 2009 at 1:25 pm

17

Shaala L. Hill

Hi everyone,

I am Shaala L. Hill, the host/sponsor of "Sammy vs. Po," the St. Nicholas Park Blitz Match, held on September 19, 2009, in NYC.

I would like to share with you, a part of the beauty I enjoyed while interacting with Brad, "the Bradinator" Ivey and Eric Schacter, the film-maker, the "synchronicity," of which I spoke.

On Thursday night (September 17th), just as I was about to exit St. Nicholas Park, Brad spoke to me about the significance of what I proposed and the necessity of having it documented. I remember him saying that this was "an historic event" and would be "the beginning of something." He gave Eric my phone number and Eric and I set up a meeting for Friday.

On Friday (September 18th), while talking to Eric, he said, "I would gladly engage in documenting the match, the excitement and diversity of the/your chess community and the rich ambiance of the park itself. As you are the orchestrator of this event, I give you co-ownership of the footage."

As Eric described to me his cinematic design for the project, I saw and felt his heart. It was so beautiful, I felt that I was living a piece of poetry or sitting in the middle of an artists' best work; having been painted on his canvas…….. I said to myself, "He loves what he does and he is very good at it! Wow! I needed someone like him and he appeared on the scene, just in time!"

On Saturday (September 19th), Eric, from beginning to end, moved through the park, face radiant, assembling the pieces of his newest masterpiece, "Sammy vs. Po."

The match, on Saturday (September 19th), spawned five new, instantaneous chess-fight promoters, who were excitedly setting up possible battles between rivals they knew…..who would play 21 games, at 5 mins. each. For a second, it felt like I was standing on the floor of the stock exchange, at trading time.

Brad looked at me and said, "This is all you! You've brought excitement back to the park!"

Humbly, I say, "I would like to believe that it was the energy of Sammy and Po, the guys who came through for me." As the winner, Po is being challenged repeatedly by players who want a one on one match with him, to fight for his title…..Winner of the "Bragging Rights" Match.

Thank you Brad!
Thank you Eric!
Thank you to all who participated, by attending!
Thank you to all who donated to the purse!
Thank you to the USCF for your donation of books!
Thanks to all who offered suggestions…and are offering suggestions for future matches!

THANK YOU DAAIM SHABAZZ FOR YOUR FORUM AND GREAT WORK! YOU ROCK!

on 23 Sep 2009 at 1:39 pm

18

Shaala L. Hill

To Sammy and Po:
THANK YOU GUY! THE EXCITEMENT IS SNOWBALLING!

Would anyone like to see a rematch consisting of 2 more matches (the best 2 of 3)???
Please respond on this site.
All comments will be apprecitated.

Thank you!

on 23 Sep 2009 at 8:03 pm

19

Michael Williams

I can speak on Adonis Turner… He's from the Pittsburgh area … He gained a lot of points recently… In fact about a year and half ago he wasn't even 1600. We played in the first round of the 2008 National Chess Congress, under 2000 (he was about 1760 then…all his points hadn't come in yet)..and he beat me..nice game. I followed him throughout the tourney and saw him get out of some tough positions..We ended up tying for first at 5-1..Not sure how old he is, but he's around 17.
I like the few youngsters we have now, because to be honest we haven't produced a lot good young players in years!…But I'm truly excited about the young ladies!..This is unprecendented…can't wait for the First African American female chess master. she will undoubtedly inspire a lot of litte geniuses.

Right Pittsburgh! Thanks for the heads-up!

I'm watching both Medina Parrilla and Darrian Robinson. Of course Medina is at UT-Dallas. The first couple of years will determine whether she will have the determination to reach National Master. Rochelle Ballantyne, 13, reached 1961 (now 1862) and seems to have promise.

Darrian has stagnated after reaching Expert once, but she has lots of time. She is in a good environment as is Medina. There is a tremendous drop-off rate for females in chess after the teen years. No one has figured out why this happens, but such research may point also out why men excel in chess at greater rates than women.

No… we haven't had a lot and some have simply stopped playing. I can name several like NM Williams Lopes, Ahmoad Ware and Tapiwa Gwaze. Let's hope we'll at least get a couple of the current crop to continue to play.

Shaala,

I'd like to see a clash with Josh Colas vs. Justus Williams or any combination of the young stars above. I hosted a few online chess clashes between young players.

1st Match: (Jayel Taylor vs. Ronnie Nelson) https://www.thechessdrum.net/newsbriefs/2005/NB_Friendship1.html

2nd Match: (Kayin Barclay vs. Jacob Wamala) https://www.thechessdrum.net/newsbriefs/2006/NB_Friendship1.html

3rd Match: (Ronnie Nelson vs. Josh Colas)
https://www.thechessdrum.net/newsbriefs/2006/NB_Friendship3.html


If we are talking street matches, then maybe top street players from different cities Sam Ford (Chicago) and Tom Murphy (DC) can be thrown into the mix.

on 24 Sep 2009 at 10:05 am

22

Lionel Davis

Shaala im prepared to compete with Po as soon as you can set the match up, i currently live in Buffalo, N.Y. i will travel to NYC and jump over 50 chessboards to get to P.O., He may not wanna taste it though! Yeah, i can TALK that TALK TOO!! Yo anybody seen Barry Bonds! hehe. Peace.

on 24 Sep 2009 at 2:24 pm

23

Po

Hi everyone
I Po wish to thank everyone for their great support on behalf of the match of the street legends. And a very warm thanks too Mrs Shaala Hill for looking it through.

on 24 Sep 2009 at 3:36 pm

24

Shaala L. Hill

To Lionel Davis:
I spoke to Po this morning about your challenge.
He laughed and said, "Tell him anytime…..and he'll be buried under those 50 chessboards too……50 games behind!"

To Daaim:
Thank you for the suggestions. I will be putting some of these people together, if I am able. I am most interested in the Joshua Colas-Justus Williams pairing.

I'm still waiting on the video footage or some pictures.

on 25 Sep 2009 at 11:29 am

26

Lionel Davis

Wonderful, thanks Shaala and Po for accepting the offer, im ready any Saturday from the 3rd to the 10th or 17th of October please blog here and let me know where and when ill be there! Po you funny, good to hear from you again, i thought you were a movie star not a chessplaya! hehe PEACE.

on 27 Sep 2009 at 11:53 am

27

Michael Williams

I'm ready to see that match… I'm waiting on some pics too.. what was the score between Po and Sammy?

See comment #12 for the report, but it was Po winning +11-4=6 or 14-7.

There is talk of a Josh Colas-Justus Williams match. Stay tuned!

on 28 Sep 2009 at 8:04 pm

30

Michael Williams

Thanks Daaim..I guess Po is still in shape…Good to hear Poker didn't hurt anything.

on 29 Sep 2009 at 7:35 pm

31

Michael Williams

Daaim.. Dan Harrington was a master.. rated 2355 when he stopped playing.

on 15 Oct 2009 at 1:47 pm

32

Candido

You can't underestimate the "PO." This was a classic matchup. Too bad I missed it. They say style makes the fight. Well, here you have totally different styles at play. Sammy is a positional player. He doesn't want to start complications until all the pieces are developed, every square accounted for. Po on the other hand is a tactician at heart. He plays for mate from the first move. He's a piece player while Sam is a pawn player. Sam likes small moves that take away squares, Po on the other hand likes big moves which cause high blood pressure. This match was similar to the Capablanca/Alekhine match at least in style. In that match the most dynamic player also won. Would like to see Po/Sam 2.

Interesting. I saw a different Sammy at the World Open. Yes… he did seem patient, but the position unfolded, he was looking for opportunities. I didn't see him as a pawn player, but you may have watched him longer. Po is definitely a tactician at heart… no doubt. No secret as to what he wants to do… sack, sack, then mate. I hear Sammy wasn't himself in this match. I'm sure he would've shown more.

on 16 Oct 2009 at 1:57 pm

34

Ribbies

Anybody who wants to see footage of Sammy and Po from the glory days of Washington Square Park (in 1988!) should see the following documentary on youtube:

https://www.youtube.com/watch?v=P0SGVfvu5tw

It also has footage of Vinnie Livermore, and the other park characters that people may remember from back in the day: Roman Dzindzichashvili, Russian Paul, 'The Ralph', Theo, 'Doctor Woo', Tony Springer, 'Preacher Mike'…and it's narrated by none other than Jimmy Jam Jones!

Picture and audio quality is not perfect, it was filmed on VHS….

14 March 2019
Hi Ribbles, and warm greetings !!

I went to the site
https://www.youtube.com/watch?v=P0SGVfvu5tw
and found a message there: "video not available."
Any idea what happened to it ??

With kind regards, Mark Creek-water Dorazio

I saw it, but this was part of a bunch of videos on personal Facebook page. I'm trying to remember who posted all of those videos.

I saw that same scene in 1990 when I lived in New York for a few months… same players. Good to see that vibe there. Brings back memories.

Blitz battles this Saturday!

https://www.thechessdrum.net/blog/2009/10/21/young-titans-in-blitz-battle/
Leave a Reply!