Street Legends Battle in New York!
New York is known by most accounts to be the "Mecca" of American chess. There are so many legendary stories borne in the "Big Apple" including Bobby Fischer and Hikaru Nakamura fame. Other colorful personalities such as Maurice Ashley and Asa Hoffman have made their marks. The latter being known as a famous chess hustler. In New York it is common to find any number of these players intermingling at the Marshall Chess Club or at any number of the open parks… the most famous being Washington Square Park.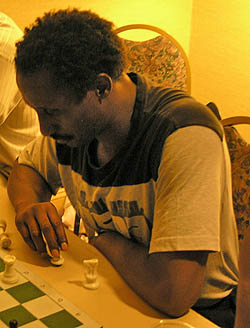 Shaala Hill knows the electricity caused by the chess crowds in New York and became enamored with the game in 2004. She told The Chess Drum that that parks are not as populated with players as they once were. Thus she has decided to host a "legends match" between to street legends. Both of these players are famous for their quick hands and blazing tactics. "Sammy" and "Po" will be matching wits in a turbo-charged, 21-game, five-minute blitz match pitting two of the most famous "street masters".
The Chess Drum last saw Sammy (pictured right) at the 2009 World Open putting on an impressive show of blitz in the skittles room. His quick tactical style and his bobbing in between moves are trademarks. "Po" is a veteran of the street game having played in Washington Square Park for decades and even getting a cameo appearance in the movie, "Searching for Bobby Fischer". Both are passionate and entertaining. Hopefully the games will be in the spirit of competition.
---
"Sammy" vs. "Po" Blitz Battle!
September 19, 2009 @ 3:30pm
St. Nicholas Park, 140th Street & St. Nicholas Avenue
Harlem, New York
---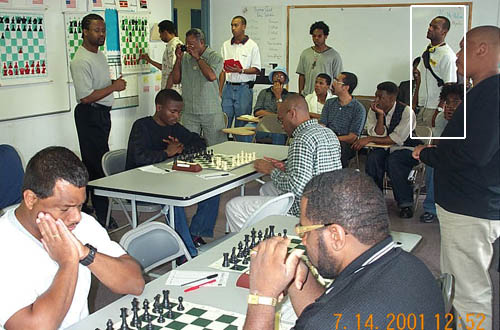 "Po" (in box) witnessing the beginning of the historic 2001 Wilbert Paige Memorial in Harlem, New York. GM Maurice Ashley watching IM (now GM) Amon Simutowe take on Canadian IM Michael Schleifer. FM Ronald Simpson takes on FM Norman Rogers. IM Watu Kobese (right) of South Africa also watches the action while waiting on opponent. Photo by Daaim Shabazz.