Interview with Charles Lawton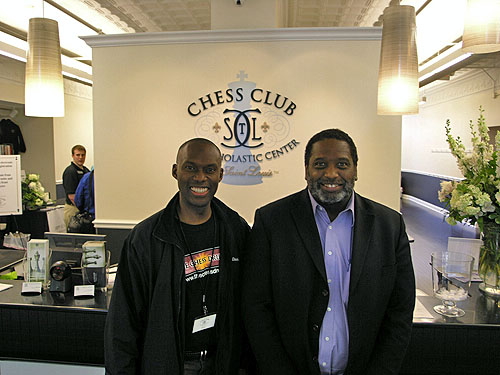 Daaim Shabazz (The Chess Drum) and National Master Charles Lawton
Charles Lawton has been playing chess for a few decades, but was pleasantly surprised when he got the call a couple of months ago inviting him to compete in the 2009 U.S. Chess Championship. His selection was on the basis of his long-time service to St. Louis chess and his status as the highest-rated National Master in the city.
When observing Lawton one can see why he was the crowd favorite. His affable nature and interaction with the kids was seen firsthand and it was such a heart-warming sight. Even when the losses piled up for Lawton (one amidst a controversy), he kept a good spirit and walked around with his head high. When asked about the potential distraction of being in his home city, he told The Chess Drum that he had made arrangements with his office. However, on a couple of occasions, the 56-year old electrical engineer was called delaying his arrival to the venue.
Lawton saw his heights in the 80s when he played in a number of tournaments in the Midwest and became the state champion of Missouri twice. He joined the long line of champions which includes the long-forgotten Leroy (Jackson) Muhammad. His fellow master Michael Brooks is a six-time state champion and also played in the 2009 U.S. Championship.
The Chess Drum was able to secure an interview after the tournament and asked him a variety of questions about his experience in the tournament.
Listen!