Caribbean Chess Carnival on tap!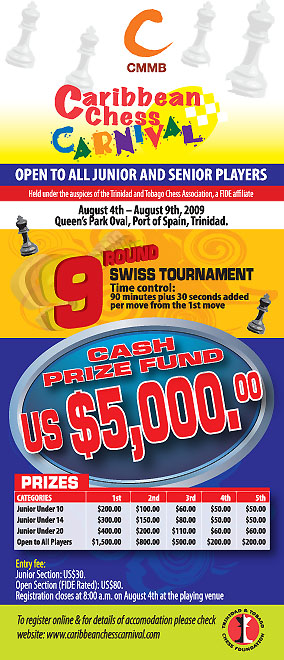 Edison Raphael has been organizing tournaments in Trinidad for more than 20 years. Perhaps his crown achievement had been the GM tournament in 1990. It was the first GM norm tournament in the English-speaking Caribbean. He then organized the memorable Caribbean. During the recent Barbados Heroes Day Cup, both Andy Walker (Guyana) and FM Grantel Gibbs (Jamaica) reminisced about the event.
Edison's latest development has been the Caribbean Chess Carnival which attracts players from throughout the Caribbean, Latin America and the U.S. The tournament has been a smashing success and hopes to be bigger and better this year. The tournament will kick off August 4th-9th in the capitol of Port of Spain.
Trinidad is the home of the carnival, steel pan music, soca and the delicious "doubles." Start making plans now! See the flyer. For additional details, contact Edison Raphael at Trinidad and Tobago Chess Foundation @ chessfoundation@gmail.com.