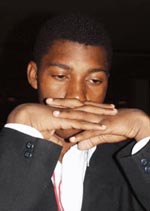 International Master Robert Gwaze is best known for his gold medal performance at the Bled Olympiad in 2002. After short stay in England and coaching stints in southeast Asia, the Zimbabwean native has decided to pursue other chess endeavors by launching a new website called chessafrica.com.
According to website,
The purpose of this communicative site is (1) to highlight the chess activities within the worldwide especially the African Diaspora (2) to serve as a site for fostering a greater sense of community within the chess world (3) to facilitate the sharing of ideas and knowledge (4) to demonstrate the true universality of chess.
The site has a number of links and included is a schedule of African events. Gwaze advertises his services as a trainer as well. He has served as a trainer in Singapore and hope to lend his skills to better chess on the African continent.


Visit chessafrica.com!!
21 Responses to "Robert Gwaze launches new site!"
on 26 Mar 2009 at 7:46 am

1

John Tobisch

Iam grateful. I trained a bit with Gwaze in Watford England.
He is always seeking out knowledge and another way forward in the game. And he is fantastic at 2 minute chess.
I hope he will hit the international stage as a player as he always
poses good questions on theory.

To those who have responded…

I understand that Gwaze's site has exactly the same purpose mentioned above is exactly the same as what's listed for The Chess Drum here. I personally don't have a problem with this if it is promoting chess in the African Diaspora. I will be supporting whatever initiatives he has started.

on 26 Mar 2009 at 6:46 pm

3

Olubunmi Adebola Dada

Dr. shabazz,well said!

on 27 Mar 2009 at 7:23 am

4

Humphrey Vambe

I am behind Gwaze's initiative as it would augment existing efforts to uplift African chess players. Great job Robert!!

The key to web initiatives is to be timely and relentless with the content. If he is not able to do that then people will lose interest in the site very quickly. There needs to be a well-defined vision for the site with a plan for content management. Websites are not easy to maintain.

on 27 Mar 2009 at 10:16 am

6

Lionel Davis

Good to see this young brother doing his thing and apparently hes willing to learn from the best Brother Shabazz! It seems ChessAfrica is an extention of your vision,god is great! Peace and Love to you all!

We need more of these initiatives. Information on the continent (apart from South Africa and Egypt) is at a trickle.

on 27 Mar 2009 at 3:13 pm

8

Moses Kawuma

Thats great robert! keep it up, i will support you any way i can!!

on 31 Mar 2009 at 8:26 am

9

Glenn (The Veteran) Bady

https://www.chessbase.com/newsdetail.asp?newsid=5321

check out this story above.

I'll check out your site Mr. Gwaze.

Robert Gwaze just made a correction. The site will focus on chess on the African Continent as opposed to the African Diaspora. Looking forward to accessing the content and cross-posting.

on 23 Jun 2009 at 10:07 am

11

JOHN CHIBVURI

I've been in the same chess club (GLEN NORAH GUNNERS) with this chess wizard in our very youthful days in Glen Norah Harare.I'm supporting him 100%. This project is to help improve chess in Africa. Keep it up!

JOHN CHIBVURI, HARARE, ZIMBABWE

on 27 Jun 2009 at 5:48 am

12

Glenn Bady

Daaim your right. A website takes a lot of work to maintain. I don't know how you have the time to maintain your site "The Chess Drum". Keep up the good work Daaim.

on 08 Oct 2009 at 2:15 pm

13

wirimayi

hi you are quiet avid fan keep me posted hope you are well

on 12 Nov 2009 at 6:33 am

14

fortune C Gandawa

this is brilliant Robert. I am behind you. have been wondering where to get hold of you. you are an icon

I would like to play against IM Robert Gwaze & GM Amon Simutuwe next year. Im impressed about their openings but they are a bit behind in terms of chess tectical awareness just like players of their calibre like IM Motilev of Russia. About the website thats great.

on 19 Nov 2009 at 6:31 am

16

Ladi Nyakudya

Keep it Robert! We will support you anyway we can down here in the Diaspora!

on 26 Nov 2009 at 1:09 pm

17

Arnold Huruva

keep up the good work mate
Glen n orah Gunners HOOOOYEE !!!

on 24 Sep 2015 at 1:30 pm

18

Sithole Regis.C

Arnold Robert is the best and ask me enough n wl tell u moreeeeeeeeeeeeee!!! he wz my classmate @ Kundayi xul by then number six,,,,,,,sithole Regis

on 15 Mar 2010 at 9:03 am

19

esther

good to see what you started that year paChipadze in Bindura has shaped a life for you. Hoyee fo sho.

on 12 Jul 2010 at 10:37 am

20

Joseph

I am informed you, Gwaze, are now a grandmaster; is that right? If so I am happy for you.

Robert Gwaze is not a Grandmaster yet.
Leave a Reply!