Robert Gwaze launches new site!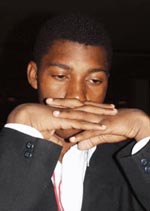 International Master Robert Gwaze is best known for his gold medal performance at the Bled Olympiad in 2002. After short stay in England and coaching stints in southeast Asia, the Zimbabwean native has decided to pursue other chess endeavors by launching a new website called chessafrica.com.
According to website,
The purpose of this communicative site is (1) to highlight the chess activities within the worldwide especially the African Diaspora (2) to serve as a site for fostering a greater sense of community within the chess world (3) to facilitate the sharing of ideas and knowledge (4) to demonstrate the true universality of chess.
The site has a number of links and included is a schedule of African events. Gwaze advertises his services as a trainer as well. He has served as a trainer in Singapore and hope to lend his skills to better chess on the African continent.


Visit chessafrica.com!!