Legends mingle at Hip-Hop Event!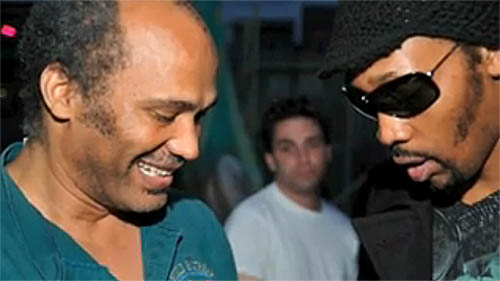 IM Emory Tate with the RZA of the Wu Tang Clan. Hip-hop and chess will never be the same.
Photo by Eric K. Arnold.
Those who know hip-hop will know about the Wu Tang Clan, a revolutionary 90s group who set the trend by fusing hip-hop with martial arts themes. RZA, the visionary leader of the Wu Tang is a longtime chess aficionado and has supported the Hip-Hop Chess Federation's initiative since its inception. He also launched his own wuchess.com website.
RZA was at John O'Connell High School with his posse when he met his legendary counterpart, International Master Emory Tate. This was an improbable match given that Tate has just returned from Mexico and was in the bay area with a fellow chessplayer. This chess player got a phone call from Adisa Banjoko. Banjoko told The Chess Drum,

Bro, it happened out of the blue. Literally 10 hrs. before the event, my boy Cisco calls me from his house out here in the Bay….He was like "Emory is chillin' with me watching TV". Now, neither of them new the HHCF was the next day. I was like, "Ummmmm, what y'all doing tomorrow"? He was like, nothin'!! I proceeded to beg him to come out, and he was AMAZING….He was on the panel. He played RZA. He was one of the last ones to leave. He was laughing, joking, TEACHING the people. I thanked The Chess Drum closing the panel. 'Cause I did not know about him until you. I told him that on the phone…It was all divine timing. In large part to your efforts.
Banjoko explained to Tate what the event was and how badly he was needed. Tate immediately agreed to attend. It was then that the meeting of the minds would happen. RZA, Rakaa Iriescience of Dialated Peoples, martial artist Dan Kiolbassa and Tate took the microphone and shared their own view in the prism of chess ideas. After that there were many battles including RZA vs. Tate and Monk vs. Elliott Liu. Long-time chess organizer and National Master Eric Schiller and the BayChess organization lended their support.
A full report is coming, but until then the video below may provide a snapshot of what happened. Enjoy!