Reflections from Dresden Olympiad
The 2008 Dresden Olympiad was one of memories… some good, some bad. Overall the Chess Olympiad is like a dreamland for chess players. A place were thousands of people assemble from all corners of the earth for one thing… chess. Imagine that. People traveling for thousands of miles for chess… playing it, speaking about it, debating about it, joking about it… sharing with each other a personal slice of life.
For the most part, it is serious business and we all want to see the best for the promotion of chess. However, "Gens Una Sumus" has a long way to go in FIDE. What one remembers most about Olympiad tournaments are the faces, the colors, the mixing of languages, the expressions of creativity and the friendships. It is these impressions that stay with us for a lifetime.
Leaving my home for Dresden, Germany was like many trips. However, I had been covering the Olympiad for a week and was looking forward to seeing the images that seemed so vivid in the reports I had been reading. Unfortunately, I did not see much diversity in the coverage. Although the coverage was adequate, there was a focus on the same teams and players. This would be may chance to make a contribution.
Dresdsen… the journey!
I left Tallahassee on Thursday morning and after a two-hour drive to Jacksonville, got a flight to Chicago's O'Hare airport for my international flight. I then took an eight-hour Lufthansa flight to Dusseldorf and then another connection for the last leg. I arrived in Dresden on the next morning before the 8th round. My one checked bag was retrieved and my record of never losing luggage remained intact. After I got directions to the hotel, I took the train for 1.80 pounds. On the way in, I looked over the horizon and the remnants of East Germany. Graffiti adorned countless buildings and there were some ancient-looking factories.
I saw the famous Yenidze building from the window and wondered about its history. It appeared to be a mosque. I later found out later that it was a tobacco company founded by Turks and thus got the name "tobacco mosque." It was a bit overcast which seem to hoist me back in time.
John Tobisch, a London-based trainer of Jamaican-German descent, warned me about Neo-Nazis in Dresden and the scenic route was not reassuring. Not to fear. Coming from the southside of Chicago, one learns to use basic survival instincts and "street smarts." As it turned out, Dresden was a very inviting place… and the tobacco mosque was a good omen.
As I exited the station the cold morning air was biting on my face and it was reminiscent of that Chicago winter air in January. As the noisy wheels of my luggage echoed through the streets, I went through the square leaving the train station, I saw many shops setting up decorations for the holiday season. It was an interesting area and was buzzing with commercial activity. Of course there was a McDonald's.
Graffiti Art

Remnants of East Germany?

McDonaaaallllllds!! There is probably one in Antartica too!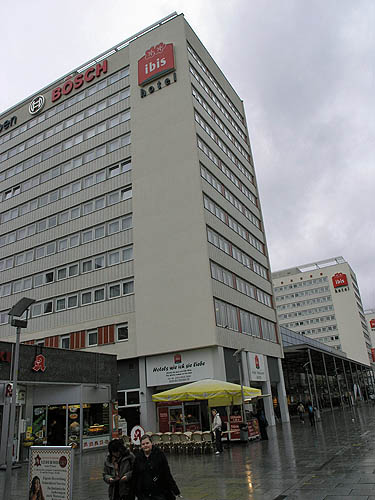 My home for a few days… Ibis Bastei.
There were these men in red shouting advertisements about something I was not sure of… in German. I finally got to the Ibis Bastei Hotel and immediately saw players in the lobby. I later met two players from the Nigerian team on the elevator. Of course, I am now six hours ahead, but I could not take a nap. One way to beat jet lag is to adjust to the new time zone as quickly as possible. Besides, the round was starting in a couple of hours.
I showered, changed and took the tram over to the Dresden Congress Center. I was directed around the back of the building where the press room was and by then it was already packed full. I got my accreditation badge, gathered some of the past materials and tried to mark my territory. To no avail. All stations and network connections were being used. Drat.
My mind was eased when I saw a friend working feverishly at a corner station… Ian Wilkinson, President of Jamaican Chess Federation. He was wearing his proud Jamaican football jersey and greeted me in his clear, baritone accent, "Shabazz!" It had been the last Olympiad since I had seen him. I had also met a few other journalists for the first time. After searching for a station for 20 minutes, it was now time for the round to start. I gathered my camera and darted off to the playing hall.

The playing venue… nice floors!
All in a Day's Work
The playing hall was neatly organized and the wooden floors gave the room an illuminated aura and the spaceship light fixtures add a nice avant-garde touch. Teams were ready to begin playing shortly and so I made a mad dash to take as many shots as possible beforehand. I looked for familiar teams and faces. Ah! Who is that? Watu Kobese from South Africa! I went over to greet him and took a quick snapshot of him.
IM Watu Kobese
The Angolan team was in sight…then two players from Ghana… the team from Seychelles… lots of eye candy. I got the diminutive Wong Kit of Macau, the ladies from Botswana and finally leaped onto the stage. I got shots of the important matches, most notably, China-Ukraine (women's).
After participating in the orchestra of shots being taken, I made it off the stage and again onto the floor… I set sights on UAE (women) with the fashionable Essa Khaloud on board #2. I also noticed a new board #1 player for the UAE, the gold medalist from 2006. Went further and then saw USA-Russia (men) and China-Vietnam (men) playing… two rivalries. USA-Russia (women) was in progress… Irina Krush vs. Alexandra Kosteniuk.
Interesting to see the teams with uniforms and matching jackets with the country's name emblazoned on the back. As I was in rapid-fire, I took pictures of many teams before I was told to leave the area. I placed special emphasis on African and Caribbean federations since no one else in the media had bothered to take pictures of them. After a few balcony shots, I retired to the press room. After jockeying for position, I was able to finally get a spot. I later got my first press conference with Lenier Dominguez, Henrik Carlsen and two female players from Tunisia, Najla Krifa and Amani Matoussi.
Press Conference: Najla Krifa (Tunisia), Henrik Carlsen (Norway), GM Susan Polgar (moderator), GM Lenier Dominguez (Cuba), Amani Matoussi (Tunisia) and Robert Fontaine (France)
Amani Matoussi of Tunisia. I have to start practicing my French again! 😉
From then on, I made a commitment to get there early enough to get a spot in the coming days. I got a cable for 20 euro deposit. Twenty euros?? People had resorted to stealing this most valuable accessory so they ditched the honor code. Not everything had a price on it. In the press room there was water, a variety of juices, tea and coffee. No snacks were present, but I had brought my stock from home… a variety of whole food energy bars. The "Raw Revolution" and "Boomi" bars would get me through the long days.
By the time I sat down, I was still behind a day and remained a bit behind throughout. The problem with covering these events is that you have to have a strategy going in. You take a lot of pictures and then you have to figure out what to do with them. Another problem with being onsite was the amount of activities to keep up with. Shooting the pictures, working on updates, press conferences, meetings, interviews, reports to sift through and then of course networking. Then there were the breaking stories, the controversies and the special appearances. It was all moving so fast. This would occur for the next 5-6 days. Lovely!
The Congress Center
The Dresden Congress Center was a treasure trove of bustling activity… a village unto itself. At least for the time being, this was the center of the chess world. Just about all the stakeholders of chess were in Dresden. The FIDE General Assembly was to meet and discuss issues including the World Championship and the Olympiad bidding. There were vendors, commentary, skittles room and of course an onsite eatery serving brats and German pizza.
The meetings took place on the top level where an interesting display of artistic chess sets were on display. There were flat screens throughout the venue where one could watch games in progress. It was a good atmosphere. The vendor booths were crowded and I met Albert Vasse of DGT Enterprise. He did a demo of a new clock that has a Chess 960 algorithm installed. He told me Foidos was a success at the Anand-Kramnik match, but they missed some targets. They had impressive products on display.
At the end of my first day, I had gotten a report up, but had not processed any photos. They were rather tedious to deal with, so I took a page from Susan Polgar and begin using my Picasa account. My approach would be to use about 10 photos in my stories and then supply links to the whole batch. The press room is where a lot of action is when the rounds are winding down. You'll see many players and a dignitary or two will pass through. The press conferences were held behind the press room, so there were many opportunities to see VIPs of the chess world. In the press room, you'll hear the buzz of breaking stories being told. Many of the journalists were very serious about their work and it was interesting to see them in action.
Memories, Memories
Many memories come to mind at the 38th Chess Olympiad. First, I would have to say the weather was the first impression. It was below freezing on some days, but then the snow came. Being a Chicagoan, I enjoyed the snow, but understand that it was the first time many of the players had seen the white stuff. (Note: Don't ever eat yellow snow!) On the free day, I decided to get out in the blustery cold before going to Veselin Topalov's press conference and the Journalists' meeting. (see photos)
Ian Wilkinson had seen snow before, but I threw a couple of snowballs at him to test his reflexes. He dubbed me "Roger Clemens." A man from the island pedigree would certainly not feel comfortable in the temperate climes of Dresden. We walked home most nights and on the way to the Rathous dining room, I remember him struggling with the cold. I told him "the cold toughens you." He wasn't convinced of the merits of cold weather.
Ian Wilkinson enjoying the Dresden weather? NOT!!
I explained to him many pointers of surviving cold weather. However, one morning on the way to the venue, snowfall was in full effect. Ian said to me, "I have an idea." The maestro from Jamaica then shed his coat and asked me to take pictures of him with the snow in the background. He held his Jamaica flag aright as the wind cut through his gold jersey. I got Ian with his prideful smile, but it wasn't long before he was scrambling for his coat. I have many pleasant memories with Ian Wilkinson including his wedding to his beautiful wife, Shawn. This was another story we can add to our growing list of memories.
There were jokes about 2010 Olympiad in Khanty Mansiysk, Russia. The joke was that few teams would brave the elements of the Siberian region town. Were they thinking about most of the non-European teams at all??? It is said that it will be –40C (-100F) there in November. Fortunately the Olympiad is in September when the temperature is a balmy 10-15C (50-60F). Looking forward to more memories, but hopefully some future memories will be made in sunshine and warmth. Happy Olympiad!
Me holding Odion Aikhoje's 10th anniversary plaque
commemorating his gold medal from the 1998 Olympiad in Elista, Russia.
Photo by FM Paul Truong.
Best Memories of the Olympiad were…
daily Olympiad treks to the Congress Center with Ian Wilkinson;
listening to Wilkinson do a "Bounty Killa" impression on the tram to Bob Wheeler's amusement;
riding the tram daily;
eating at the Rathous Diner for the players and coaches;
seeing the chess themes throughout the city;
meeting Mosab Ghattour of Libya who now lives in Switzerland. We met each other about six times on "coincidence." One night when I was looking for a restaurant, he offered me his entire package of baklava when I asked where he had gotten it. Despite his generosity, I insisted on taking one piece. Delicious!
meeting Barthelemy Bongo Akanga Ndjila of Gabon;
press conferences with Susan Polgar as moderator;
press conference with Amani Matoussi of Tunisia! 🙂 A Cuban named Lenier Dominguez was also on the panel. I think he plays chess too.
chatting with Pontus Carlsson of Sweden;
being greeted warmly by Paul Truong;
seeing the Cuba's Oleiny Linares-Napoles in person for the first time after learning about her from Glenn Bady. She was 3/3 at the time and ended on 9/10 for a board #4 silver medal;
talking to India's Vijay Kumar about Camtasia Studio and giving him a demo;
being greeted by Peter Doggers of Chessvibes and Amiel Rosario "The Closet Grandmaster." I had only met them online;
seeing IM Kenny Solomon of South Africa and greeting him with the customary "Howzit!"
meeting the Ghana team and seeing them wearing shirt with "Invest in Africa"
seeing Libyan, Yemen and UAE women wearing attractive and colorful hijabs (head scarves);
Essa Khaloud's (UAE) great sense of fashion;
interviewing Levon Aronian at closing ceremony. He greeted me and asked, "How is the site going?"
trying to get my Chess Drum cap back from Amon Simutowe who wanted it… he got a shirt instead;
China's Hou Yifan and Ju Wenjun giggling at Magnus Carlsen's press conference;
walking in the snow and throwing snowballs;
Adebayo Adegboyega asking me to autograph a Wilbert Paige booklet I gave him;
being warmly greeted by the Botswana men's players.
meeting the adorable Sri Lankan girls and reuniting with Vineetha Wijesuriya. So much has happened in Sri Lanka since we last met in Calvia Olympiad. I have publicized Sri Lanka's plight on a few occassions and they were very appreciative;

introducing myself with GM Ian Rogers and later chatting about chess issues (He's the Australian chess legend!);
seeing the halal stamp on the counter in a Arab restaurant;
meeting Qataris at airport leaving Dresden
the press conference with Veselin Topalov;
attending the African Continental meeting and being acknowledged;
chatting with a German worker at Subway restaurant. He asked me about Barack Obama;
listening to the cacophony of languages in the press room;
chatting with the US-based Nigerian Oladapo Adu;
socializing with the Dominicans in the lobby of the Ibis Bastei. Dominicans are full of life!
Philip Corbin of Barbados asking me to take a picture with him (He's a 7-time national champion, not me!);
watching the USA team work through medal tiebreaks after the tournament… they won the bronze!
chatting with Indian GM Sandipan Chanda after the Closing Ceremonies… such a pleasant gentleman;
FINALLY seeing Frederic Friedel of ChessBase as I was leaving the Closing Ceremony;
watching the different language channels on German TV and making a recording for my students;
Worst Memories of the Olympiad were…
almost missing a plane after going to gate A19 instead of A16. I was there two hours in advance. I was working on Olympiad reports and wondered why the plane at my gate was going to Tampa, Florida only a few minutes before mine. 😕
the first time I saw Uganda playing with only two boards;
hearing that a Mozambican player was hit by a tram car;
forfeiture controversies… a terrible experiment for such a major event. Gabon-U.S. Virgin Island case was particularly disturbing;
visa controversies since African nations took a tremendous hit;
Uganda's Shadrack Kantinti missing ten rounds of chess and arriving to play two rounds;
Kebadu Belachew's disappointment in FIDE Treasurer Nigel Freeman in handling Ethiopia's arrears case;
seeing Haiti's empty seats at the FIDE General Assembly;
NOT meeting Patrick Li Ying of Mauritius for third Olympiad in a row;
not having more time to chat with the Jamaican team… especially Shane Matthews;
paying seven euros for 24-hour Internet service at hotel and not getting full 24-hours of use;
leaving the press room at 10:00pm and not being able to find anything substantive to eat;
seeing an empty press room after the closing ceremonies.